In this article
A review of the Exports tab in the Permutive platform
What are Exports
The Exports feature allows you to download any of your publisher cohorts on an ID level.
How to find current Exports
Navigate to the Exports, which sits within the Cohort Activation tab, to see a list of all the exports that have been created in your project.

Clicking into an Export shows you which ID type the cohort has been downloaded as (1), the date range from which the IDs have been downloaded (2), as well as which cohorts have been downloaded (3).

To view the IDs related to your chosen cohorts, click on the 'Download' button at the bottom of the page (4). This will download a text file with a list of IDs and the corresponding cohort code.
How to create new Exports
To create a new Export follow the steps below:
1. Click 'Add Export'
2. Name your Export
3. Choose the ID type you wish to download your cohort as - AppNexus, IDFA or Custom.
Note: Custom IDs should be verified with your Solutions Architect prior to downloading.
4. Choose a date range you want to download the IDs over - the duration is currently limited to 30 days.
5. Choose which scohorts you wish to download the IDs for.
Tip: The default is set to download all Permutive cohorts so uncheck this box (6) to select specific cohorts. Use this search function (7) to find a particular cohorts or use the filtering system to filter by tags (8).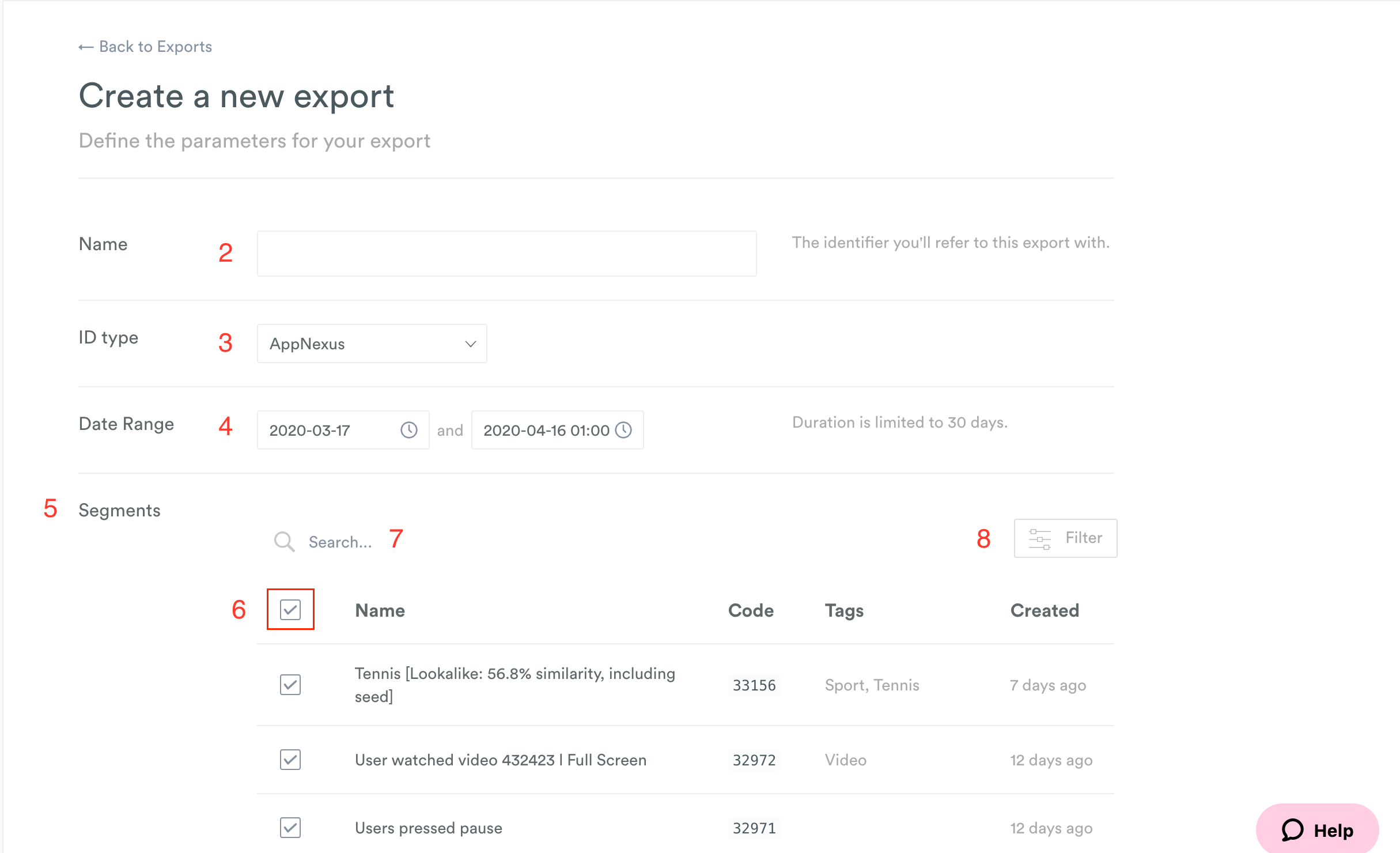 Once you have selected your required cohorts, click 'Create' and the export will begin.
The export's status will be set to 'In Progress' until it is complete.

Once the export has finished, the status will show as 'Completed', meaning you can now download the text file.
If you have any questions, please contact customer support by emailing support@permutive.com or chat to the Customer Operations Team via the LiveChat icon in the bottom right corner of your screen.