In this article
We will cover the difference between ANY and ALL when building cohorts.
Note: This is specific to Custom Cohorts when creating your audiences.
When building out your custom cohorts, you are able to add multiple properties if required, as well as any additional data like the following: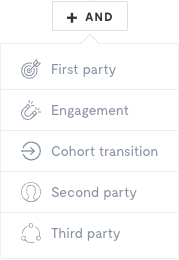 Depending on the type of cohort you want to build will depend on the audience you are trying to reach ANY and ALL is a big contribution to the size of the audience you are going to build out.
ANY
When ANY is selected an OR will appear if you have more than one property or if you select OR when adding additional data points like cohort transitions, third-party data, etc. Using the example below, ANY/OR means that if the URL contains Green the user will fall into the cohort, they would also fall into the cohort if the title had Green in it. But if we were to have Green in the URL but not in the title, the user would still fall into the cohort as the ANY is saying as long as any of the property requirements are met then the user will fall into the cohort.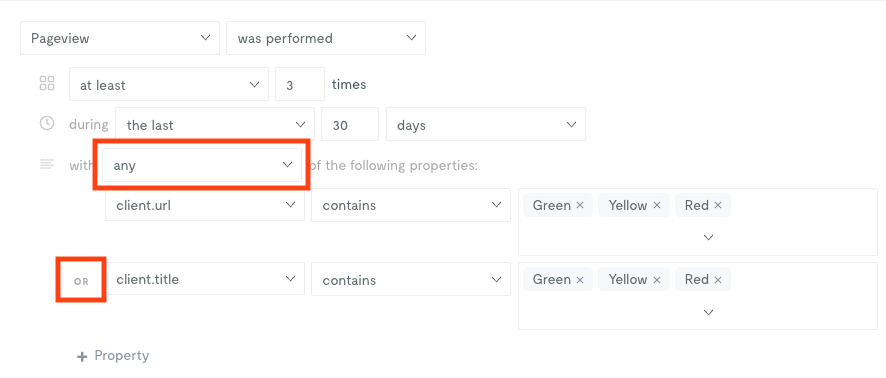 ALL
In contrast to ANY, when ALL is selected an AND will appear between selected properties or additional data points, as seen in the example below. If the URL and Title were to have the term 'Green' in them, then the user would fall into this cohort. However, if the URL has Green but the title doesn't, or vice versa then the user would not fall into the cohort. The ALL is saying that all entry requirements must be met for the user to fall into this cohort.

Tip: Using AND/OR will give you a much broader audience reach, whereas ANY/AND will give you a more specific audience reach, keep this in mind when building out your cohorts.