In this article
An overview of Affinity Cohorts for Contextual Cohorts.
Affinity Cohorts allows you to incorporate audience insights into contextual targeting. It enables you to leverage the granularity of your first-party data and your unique audience understanding, to create a differentiated contextual targeting offering for advertisers.
Affinity Cohort leverages the insights from your consented users to make contextual targeting decisions, which don't require user consent. It allows you to bridge the gap between your audience-based data offering and contextual data offering. With Affinity Cohort, you target content particularly relevant to a specific Custom Cohort.
Usage
In the dashboard, add an "Affinity Cohort" predicate to your Contextual Cohort definition:

You can now select any of your Custom Cohorts from the first dropdown. You can also combine the Affinity Cohort predicate with others like "Affinity Cohort is greater than 200 AND sentiment is positive".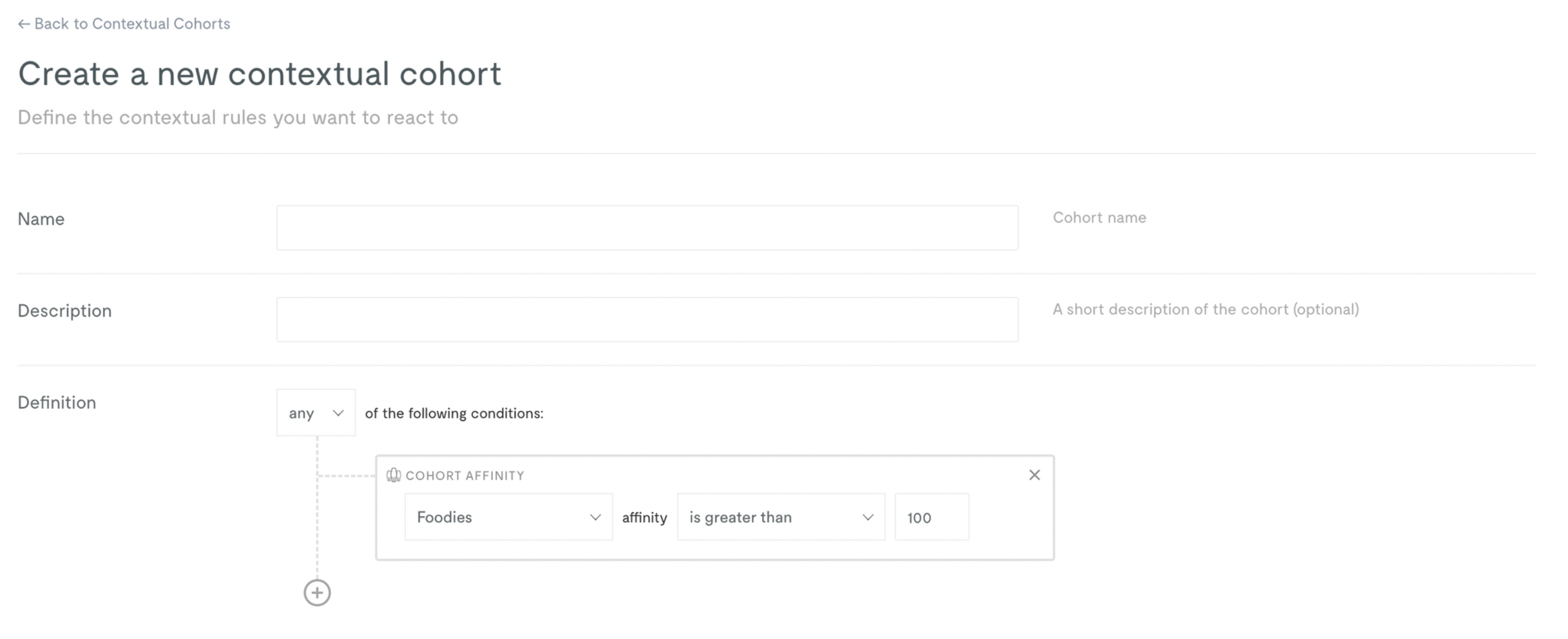 Note: You cannot select the following: Modeled cohorts, Standard cohorts, or Cohorts using third-party data
Methodology
Permutive creates an affinity score for each article using data from your consented users. You can imagine this as a large matrix for all of your Custom Cohorts and each piece of content, looking like this:
| | | | |
| --- | --- | --- | --- |
| | Sport Lovers | Movie Enthusiasts | Foodies |
| | 102 | 70 | 2 |
| | 200 | 178 | 90 |
| | 11 | 90 | 321 |
We're happy to share with you the formula we use to calculate affinity scores - please reach out to us if you want to learn more.
Affinity scores describe a particular Custom Cohort's affinity against a URL. This means how likely a given cohort is to engage with a URL, compared to the site average.
An affinity of 100 indicates that users in the cohort are

no more or less likely

to visit the URL compared to the site average

An affinity above 100 indicates that users in the cohort are

more likely

to visit the URL compared to the site average

An affinity below 100 indicates that users in the cohort are

less likely

to visit the URL compared to the site average
There are two ways to interpret a positive affinity number, either as a decimal or as a percentage:
An affinity of 125 would either be

1.25x more likely

or

25% more likely

An affinity of 245 would either be

2.45x more likely

or

145% more likely
If you go for a higher affinity score, this will give you more similarity, but less scale: