This article provides an overview of updates made to the Permutive Dashboard. These updates are set to go live on Monday July 12th 2021.
In April, we made the exciting announcement that Permutive is evolving from a DMP into an Audience Platform to support the changing needs of our customers in a rapidly changing ecosystem.
As part of our evolution, we'll be making some changes to the Permutive platform over the coming months.
On Monday 12th July 2021, we are rolling out the first phase of updates to the dashboard! You'll see a new navigation structure to better organise and categorise your Audience data. You'll also see changes to the terminology used there and throughout the platform which reflect the privacy-centric capabilities that have always been at the core of Permutive technology - in particular, Publisher Cohorts.
What are Publisher Cohorts?
For the last 5 years, Permutive has supported publishers through privacy-related industry change by targeting users in a unique way. Thanks to our edge technology, we never expose user IDs. Instead, we allow you to safely target a group of users based on common characteristics: a publisher 'cohort' that you have full control over. We're confident that these will become the default for privacy-safe targeting on the web.
Publisher cohorts protect user privacy because no user ID is attached to bid requests so data doesn't leak and can't be aggregated downstream. In turn, this protects the value you bring into the ecosystem.
Every first-party segment you have targeted using the Permutive platform has been in the form of a privacy-safe Publisher Cohort - and we wanted to reflect this in your dashboard!
The left-hand navigation bar has been updated to better organise and categorise your Audience data. This will help you more easily find the different types of cohorts you have available - e.g. Custom, Modeled, Standard - and the ways you can build them from your wider audience. You can find a summary of the main changes below.
Updated Navigation
| | |
| --- | --- |
| Old | New |
| | |
Audience Events
Audience Events - formerly known as "Events", these are the raw behavioral data points that Permutive collects in real-time. You use these to understand your users and define your cohorts.

Custom Cohorts
Custom Cohorts are the bespoke cohorts that you build today to answer specific campaign needs, based on the unique first party data you collect. Click "Add Cohort" in the top right, and you can build and activate a cohort the same way you do today.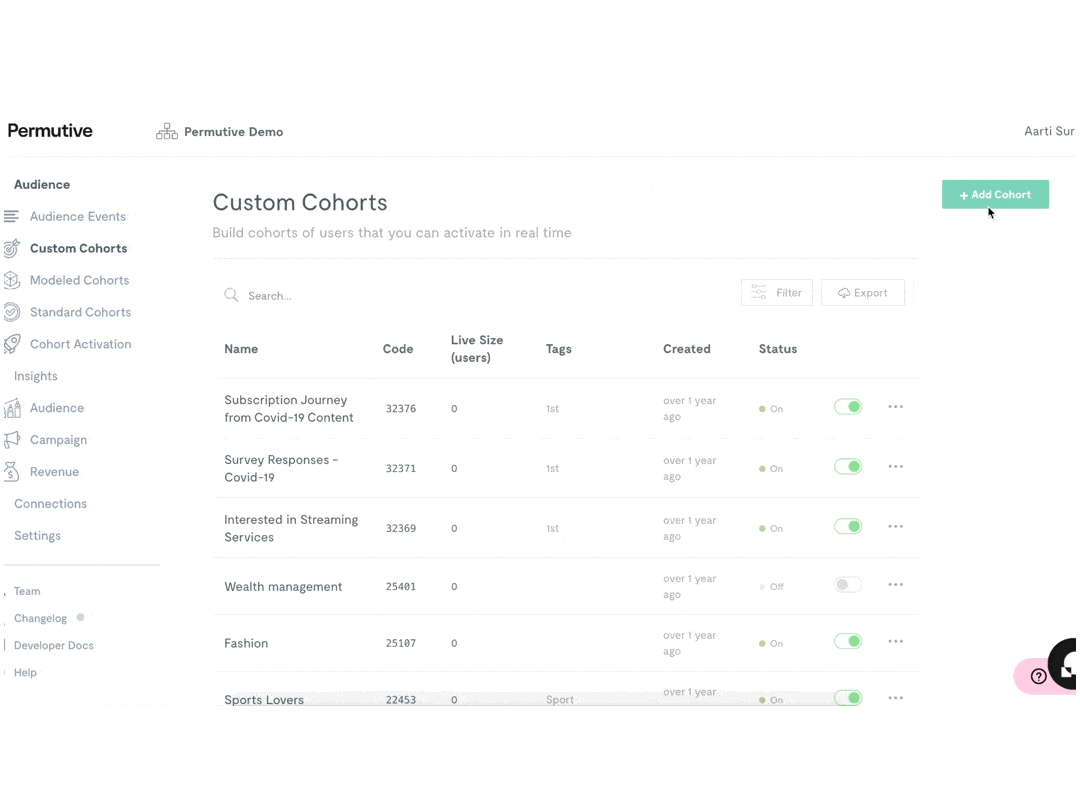 Modeled Cohorts (and Modeling)
Modeled Cohorts are custom cohorts that you have scaled up using Permutive Modeling.
We heard your feedback that your Modeled Cohorts were previously hard to find, mixed in with other types of cohorts in one list - so we've separated them out into their own category.
We've also relocated the Modeling functionality to sit alongside your modeled cohorts, so you have everything you need in one place!
Two tabs at the top of your 'Modeled Cohorts' screen that let you view the cohorts you have created via Modeling, and the models you have created. In order to create a new model, simply select the 'Models' tab and click on "Add Model" on the right side of the page, as before.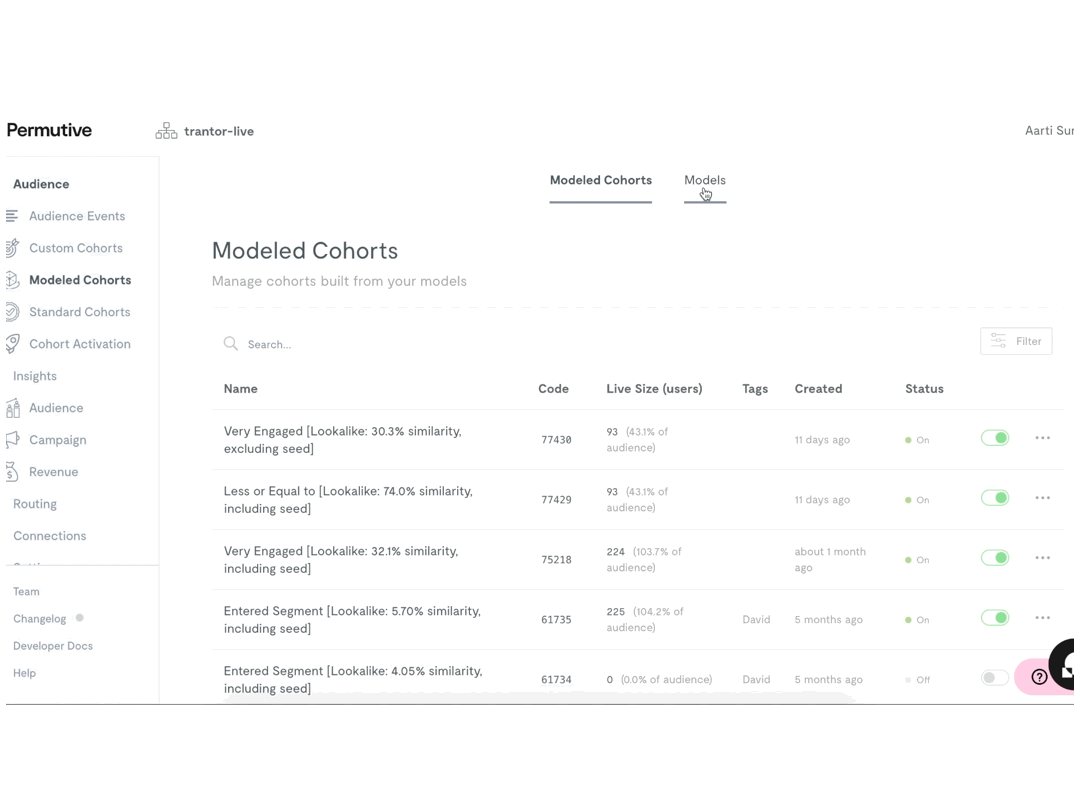 Standard Cohorts and Connections
If you have Standard Cohorts enabled, you'll find a tab of the same name dedicated to standardized cohorts automatically built from your first-party data, in line with the IAB Audience Taxonomy 1.1. This functionality allows advertisers to buy your data in transparently defined standardized cohorts with minimal effort on your part. You can choose which of your Standard Cohorts you wish to make available to your advertiser connections by toggling them off and on.
In order to manage connections to advertisers and facilitate their purchase of your Standard Cohorts, you will also find a "Connections" tab towards the bottom of the navigation menu. This tab is where you'll find granular permissions to determine what your connected advertisers can access, and ensure safe connectivity and collaboration.
Vaults and Connections
If you're using a Vault to collaborate with advertisers or share your own data, you'll find details of your Vault connections and granular controls to manage them within the Connections tab.
If you would like to enable Standard Cohorts or Vaults, please contact your Customer Success Manager.

Cohort Activation
Cohorts Activation combines "Activations" and "Exports" from our previous dashboard. Within that section of your dashboard, two tabs at the top let you see the downstream systems you send your cohorts to for activation, and let you download data for use in other systems.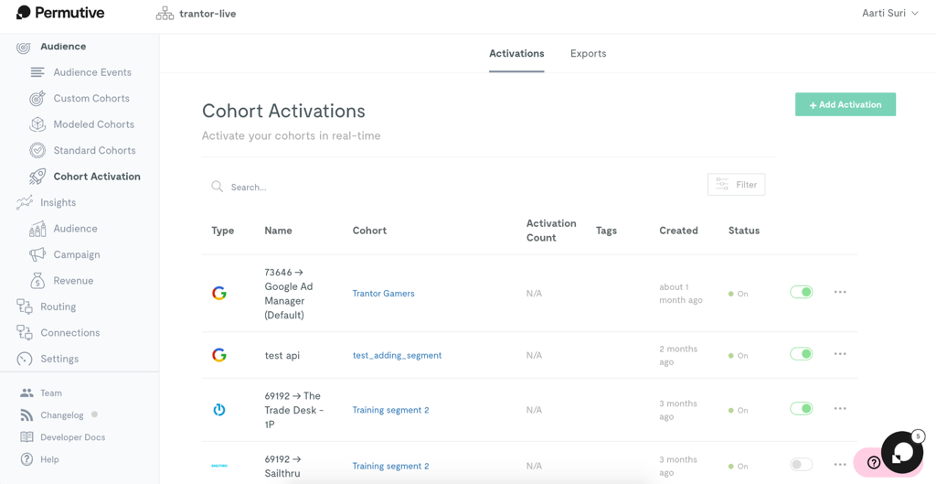 We're excited to share these Permutive dashboard updates with you. If you have any questions, please contact support@permutive.com.