In this article
This article is a guide to the available data points in the Permutive Revenue Insights dashboard.
Revenue Insights provides valuable data points around campaign performance and revenue won in the open marketplace (OMP) and private marketplace (PMP) deals.
The available dashboards provide an overview as well as deeper insights divided by Advertiser, Cohorts, Content, and SSPs.
Note: customers must provide access to GAM log files and activate their cohorts to GAM to accurately report revenue data in the Revenue Insights section of their project
Overview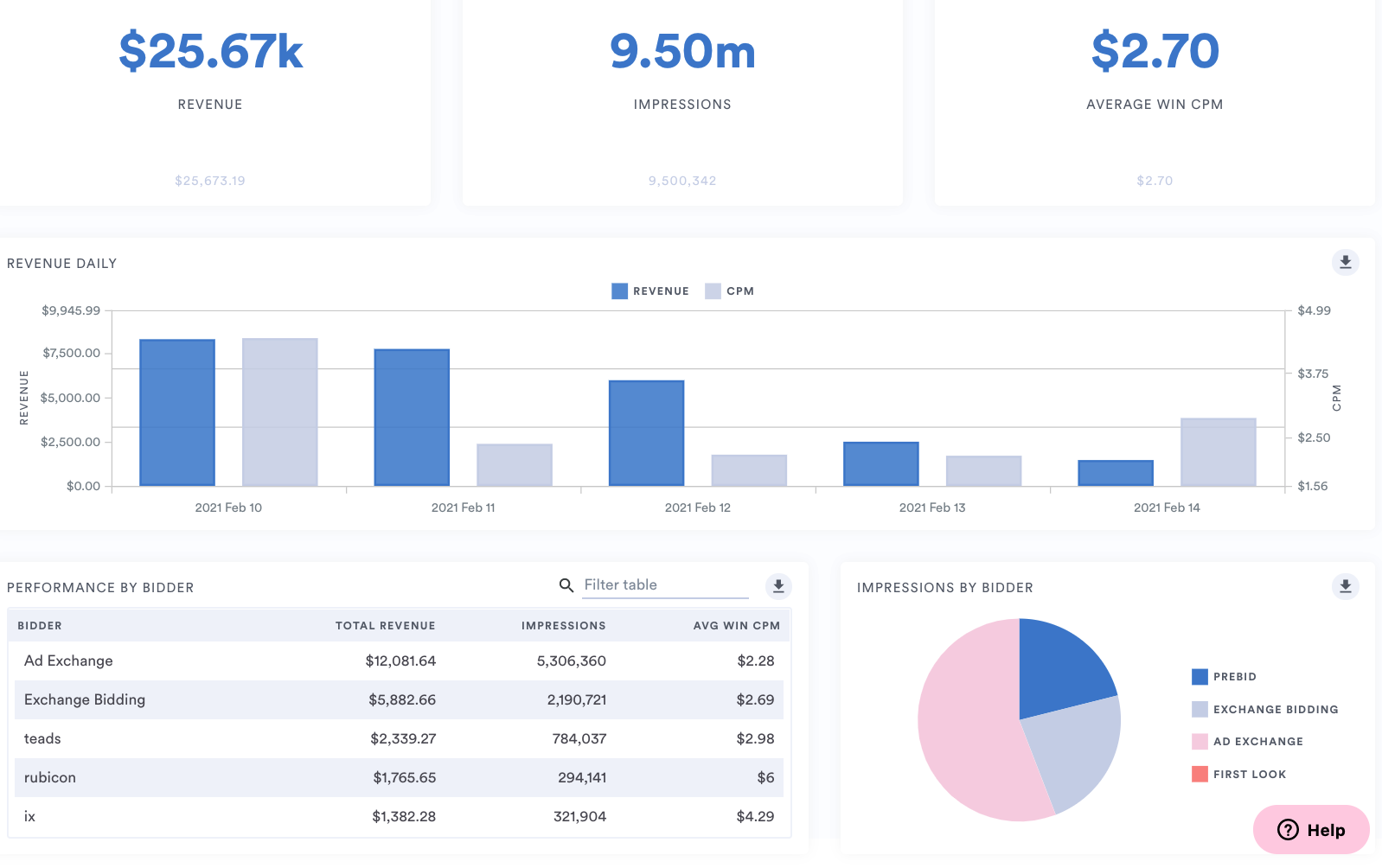 Data Points:
Revenue
Impressions
Average Win CPM
Daily Revenue
Performance by Bidder
Impressions by Bidder
In the Overview dashboard, you will be able to find information about the total OMP and PMP revenues.
This dashboard also provides you with a deeper breakdown of the Bidders performance including the revenue, impressions, average win CPM per bidder, and distribution of impressions by Bidder.
Advertiser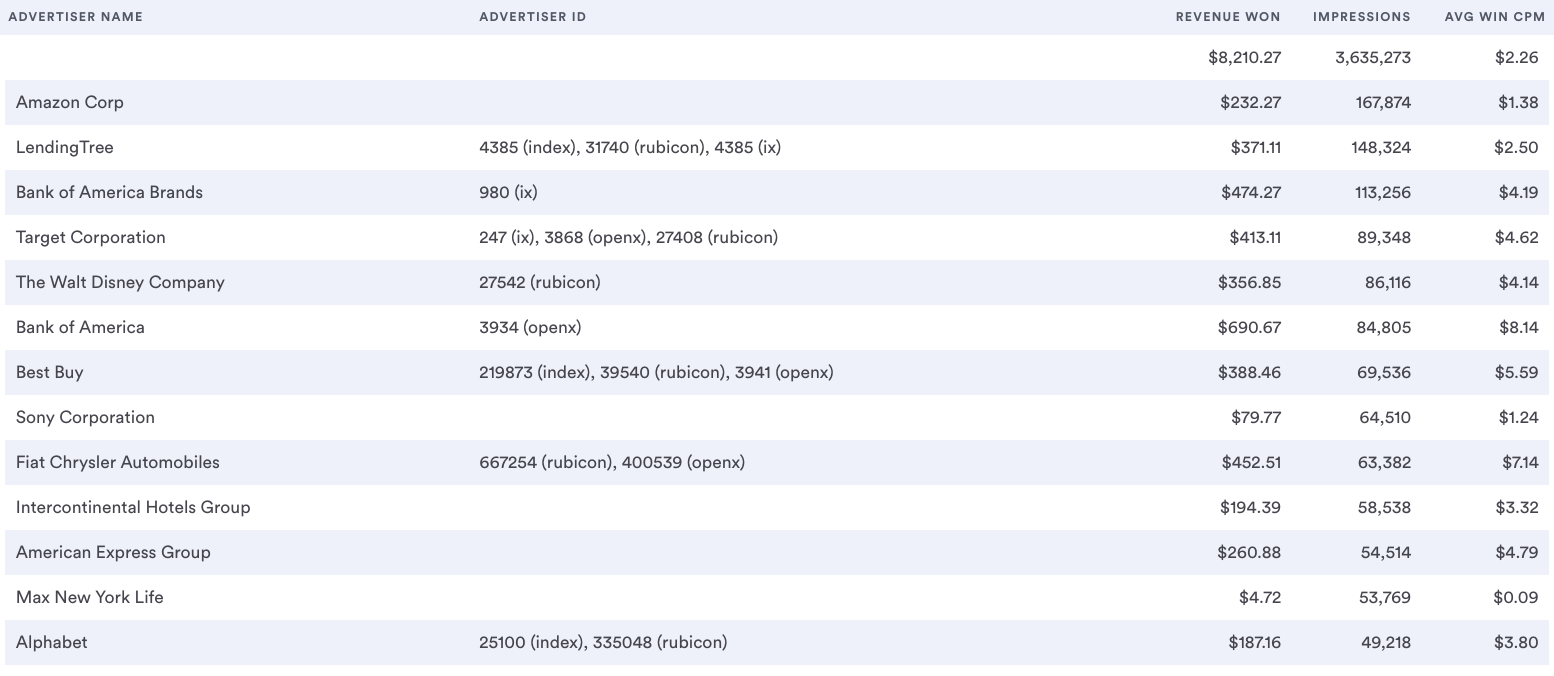 Data Points:
Advertiser Name
Advertiser ID
Revenue Won
Impressions
Average Win CPM
The Advertiser dashboard provides an overview of all of the Advertisers that have bid on your inventory.
This insight is incredibly valuable in allowing you to switch from OMP to PMP deals, commanding higher CPMs for your inventory, or perhaps direct deals, guaranteeing supply for the advertiser and demand for you. You can easily see which advertisers are bidding high on your content via OMP, and approach them directly.
Tip: You can also track the performance of your PMP deals, guiding you in optimising those relationships.
Cohort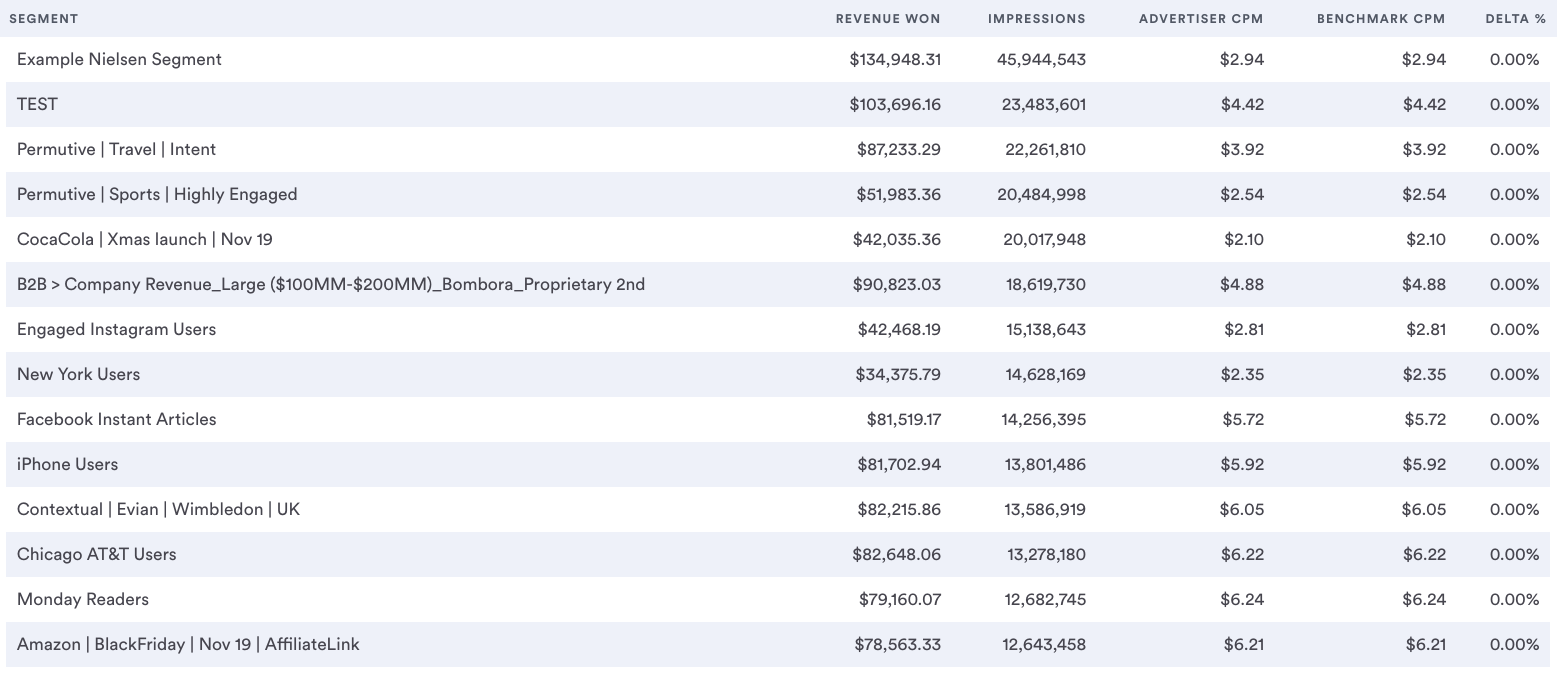 Data Points:
Revenue Won
Impressions
Advertiser CPM
Benchmark CPM
The Cohort dashboard gives insight into which cohorts are most valuable and command the highest CPMs and drive the most revenue.
It will also help you get a more holistic understanding of your overall audience, potentially informing your future cohort creation strategies.
Tip: Prebid can attribute revenue for a cohort upon implementation. However, if GAM log files are used for Revenue Insights set up a cohort's revenue can be tracked only if their GAM activation is enabled.
Content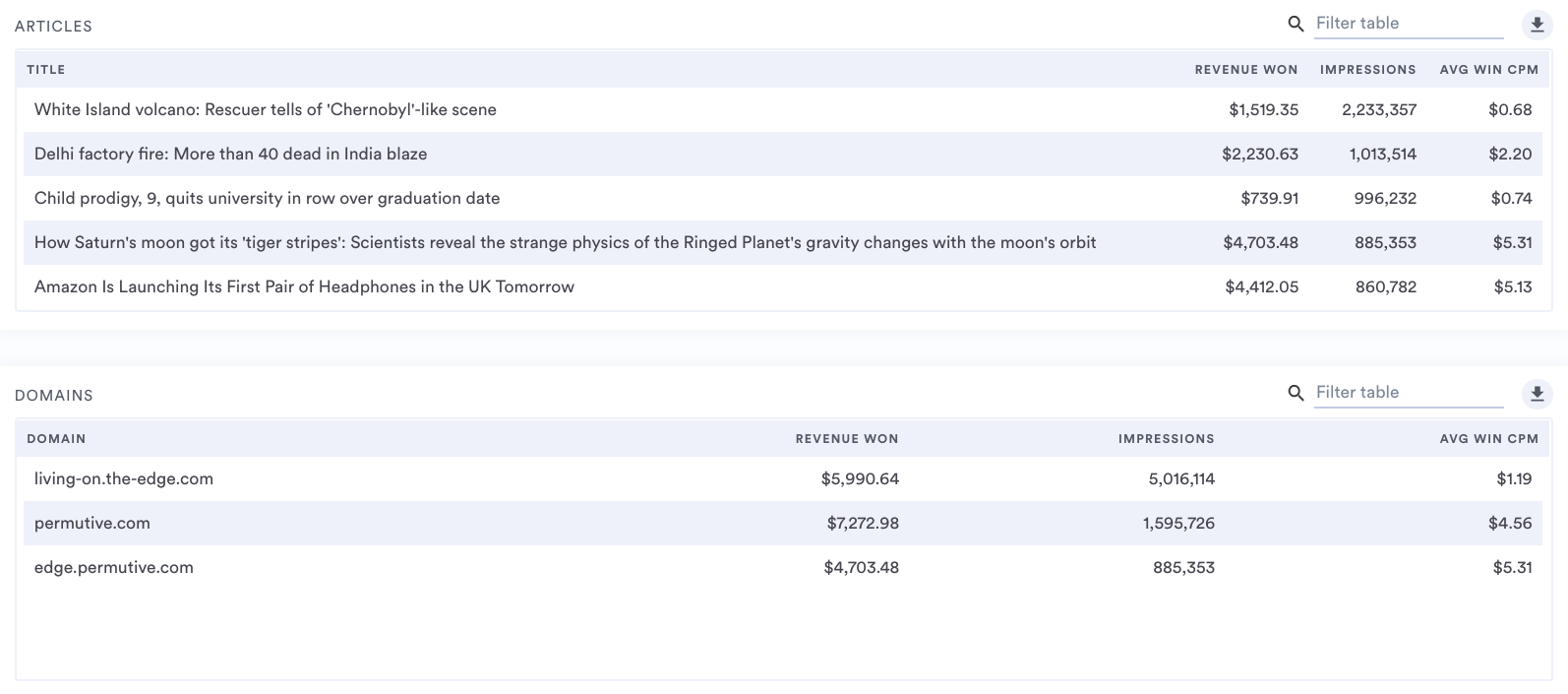 Data Points:
Total Impressions
Total Revenue
Average Winning CPM
This dashboard is an important tool to give you insight into which content drives the most ad revenue. Publishers use this knowledge to make strategic decisions such as what articles to put behind an ad-free paywall vs which sections to expand to generate more ad revenue.
Tip: This information can be used to look at which content individual advertisers are bidding on, which paves a data-driven strategy for deal negotiations. To do this, use the filters at the top of the report to filter by Advertiser.
SSP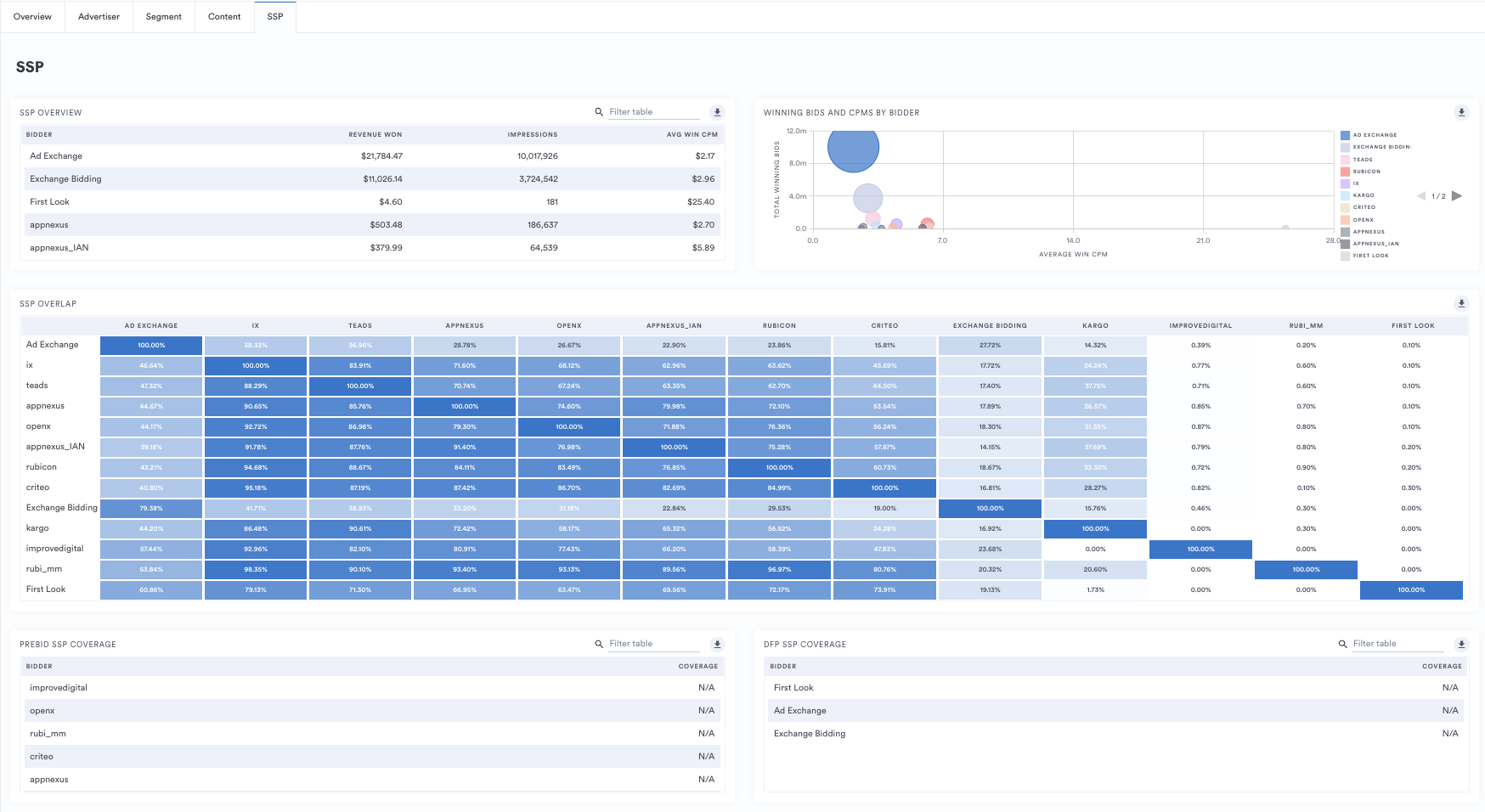 See below for close-ups of each dashboard
Data Points:
Impressions
Win Rate
Average Win CPM
Revenue Won
Average CPM
Average time to respond
Number of bids timed out
Missed Revenue
The SSP dashboard is used to monitor the health and performance of your SSP relationships.
In the SSP dashboard you are shown a comparison of the performance of each Bidder: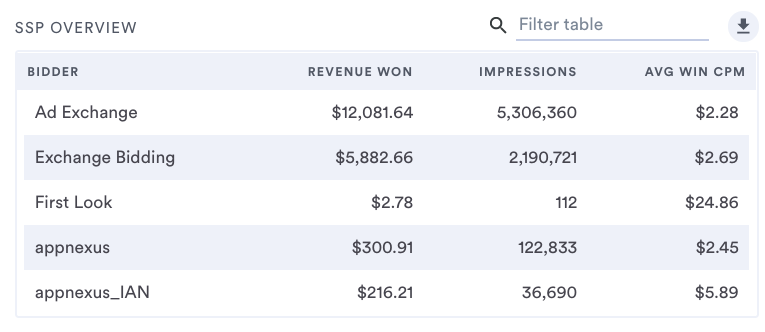 We provide a visual breakdown of the average CPM across all bids with the average bid price, total bids and total bids value as well as a visual for the average CPM across all winning bids with the average bid price, total bids and total bids value: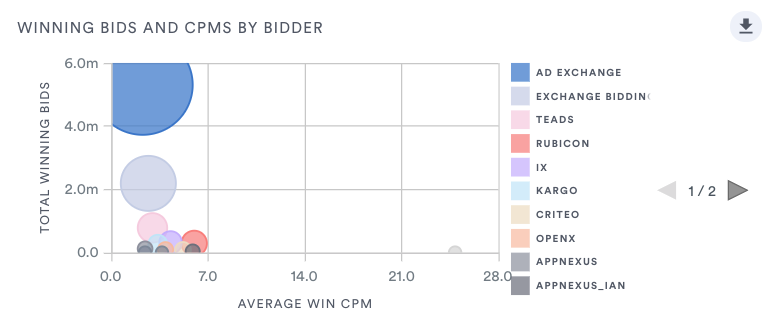 We display an SSP overlap table which shows in percentages the chance that bidders are competing: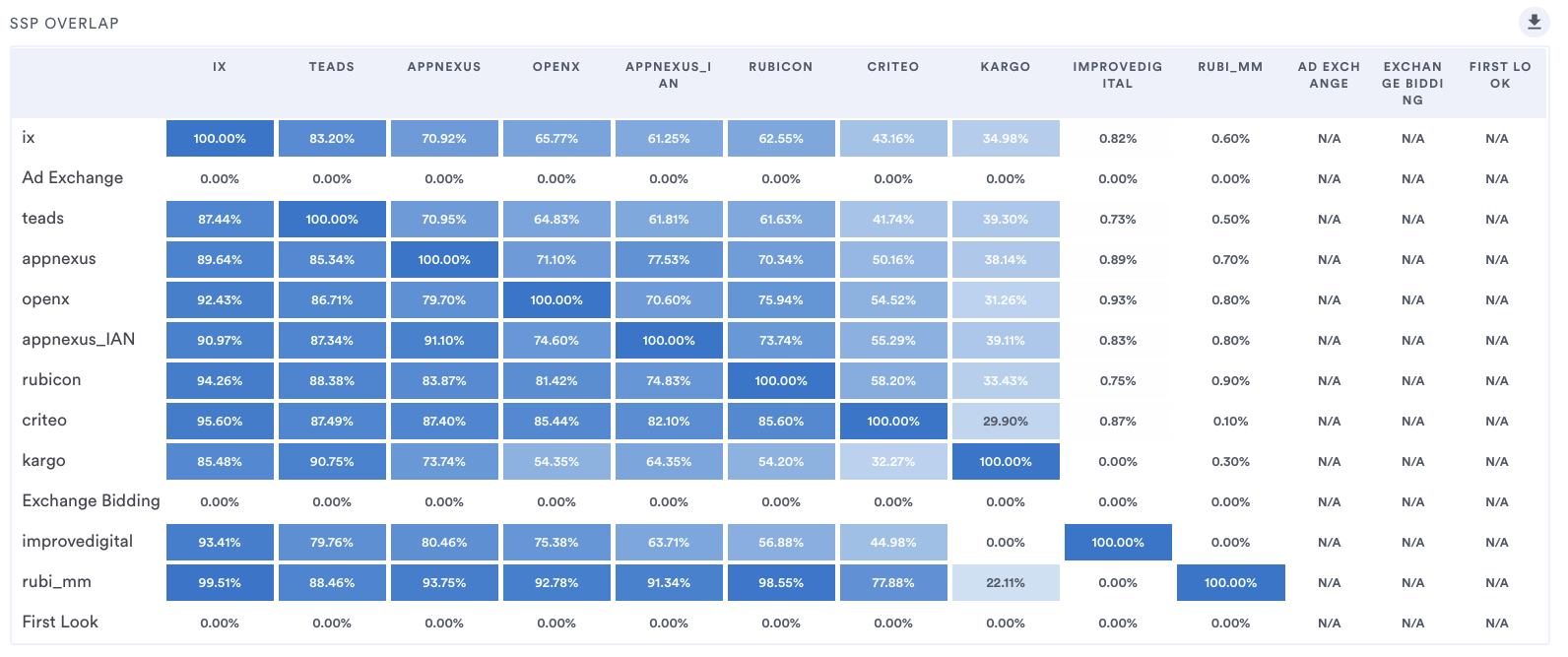 Underneath this, you will find two tables that define the total distribution in percentages for the Prebid and DFP coverage:
The coverage is calculated by taking the number of users an SSP has bid on, and dividing it by the total number of users on your sites.