In this article
An introduction and overview of Enterprise Workspaces.
Enterprise Workspaces is a way to organize and support publishers and alliances by having a Permutive workspace per unit in the organizational hierarchy.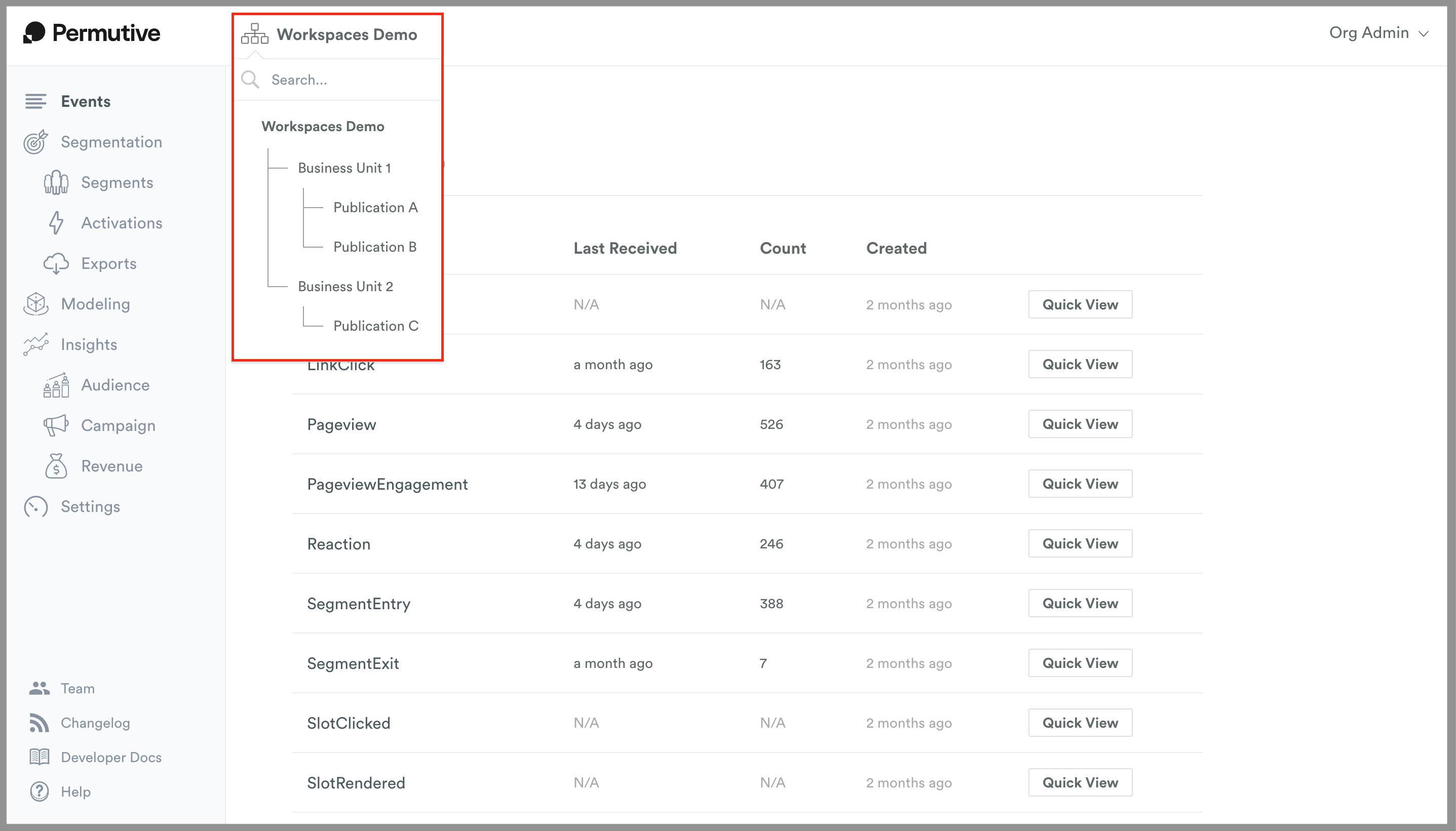 Example: A large publisher who has a business unit per region. Each business unit has a set of domains that they manage. Typically the structure is the global organization sits at the top of the hierarchy and the individual business units (parent workspace), publishers, or publications sit below (child workspace).
Teams
The Teams section is where organization administrators can manage user access permissions, as well as user groups.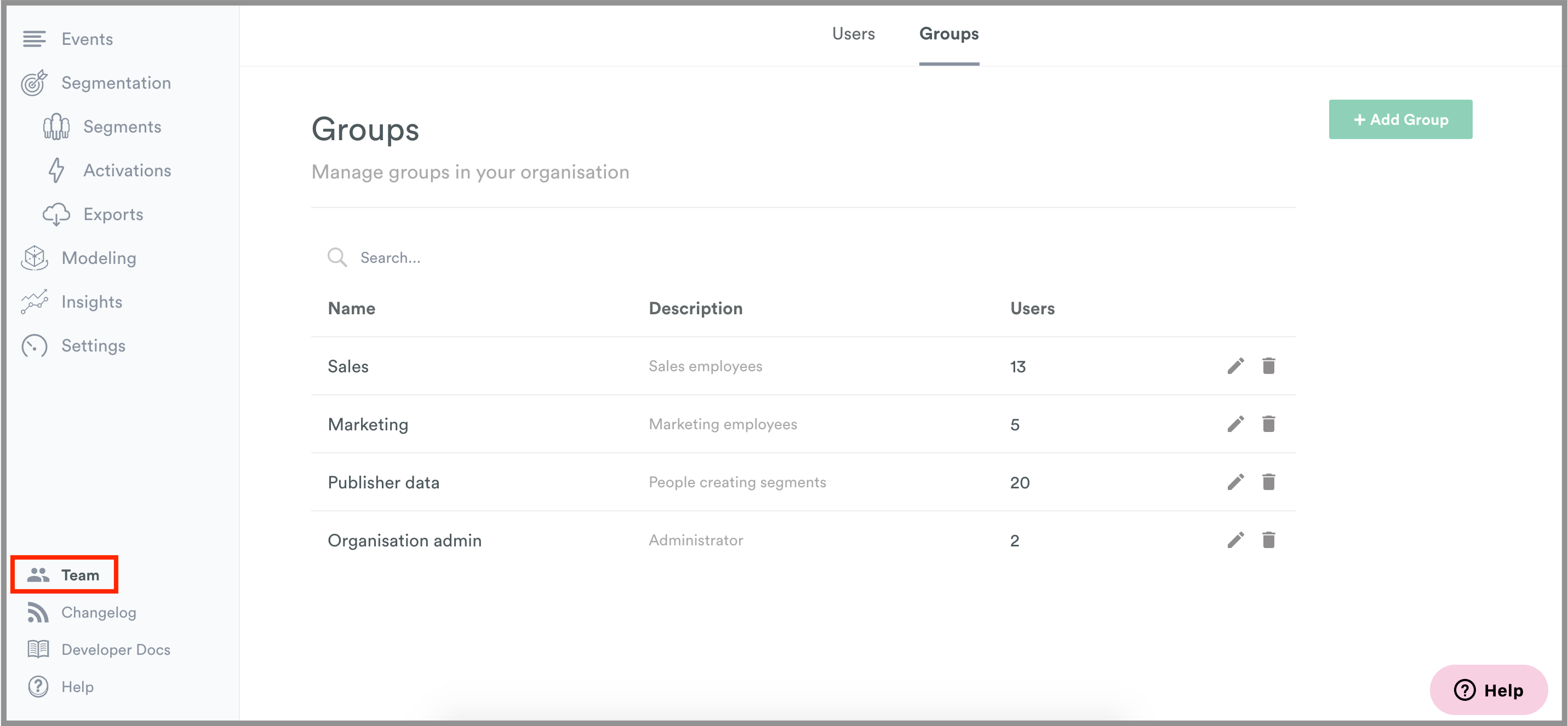 Click here to learn more about user management.
Data and Cohort Flow
Enterprise Workspaces is designed that data rolls up into parent workspaces, and cohorts propagate down into child workspaces.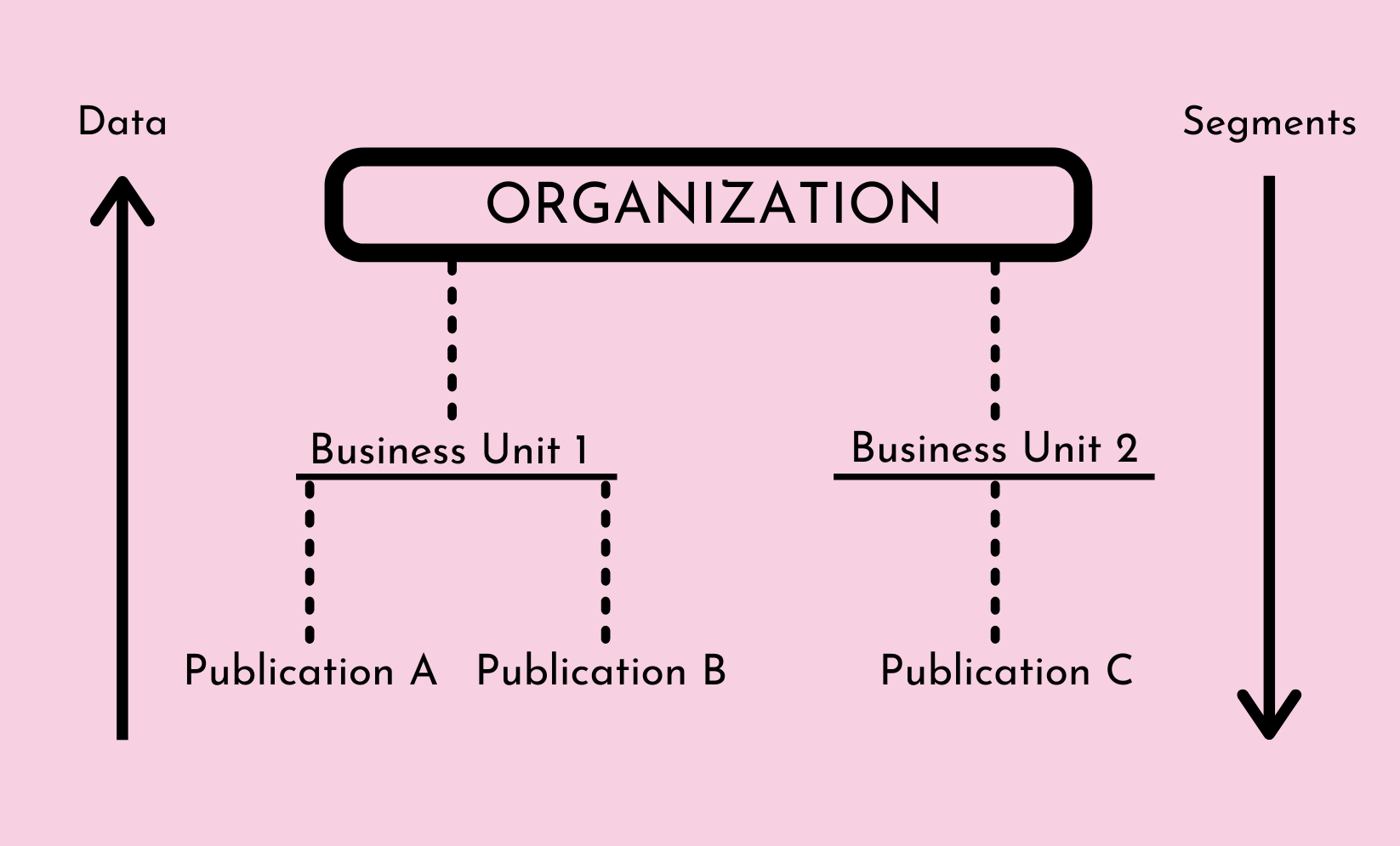 Data
| | |
| --- | --- |
| Organization Workspace | Can access to data from all the workspaces |
| Business Unit 1 Workspace | Can calculate cohort size estimations and evaluate data from the child workspaces |
| Child Workspaces (ie: Publication A or B) | Will only have access to data in their workspace |
Cohort Flow
Cohorts built in a parent workspace will be deployed to the child workspaces.
Cohorts built in child workspaces will not be deployed or available to view in parent workspaces.
Example 1: Business Unit 1 will have access to cohorts built in their workspace and the Organization workspace.
Example 2: If a cohort is built in the Business Unit 1 workspace, it will be deployed to Publication A and B workspaces.
Cohorts
Cohorts can be created by defining them in the Permutive dashboard.
The cohort will only be editable in the workspace where it was created.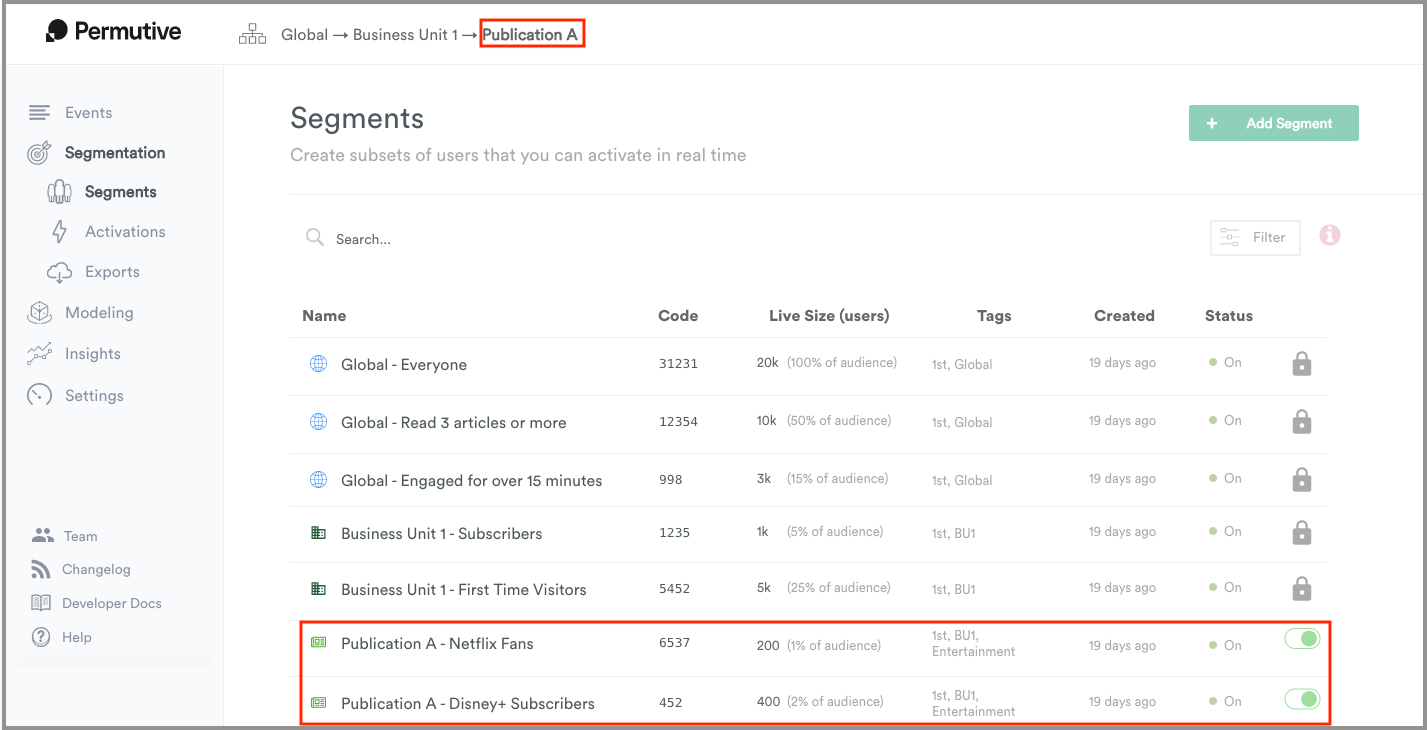 If a cohort was created in a parent workspace, the cohort will be evaluated against all of the child workspaces.
The predicted and live audience size will always be shown for the workspace the user is currently in.
Activations
The Activations tab in Permutive allows cohorts to be sent to other platforms.
Activations can only be edited in the workspace that it was created in. Additionally, activations built in parent-level workspaces can be viewed.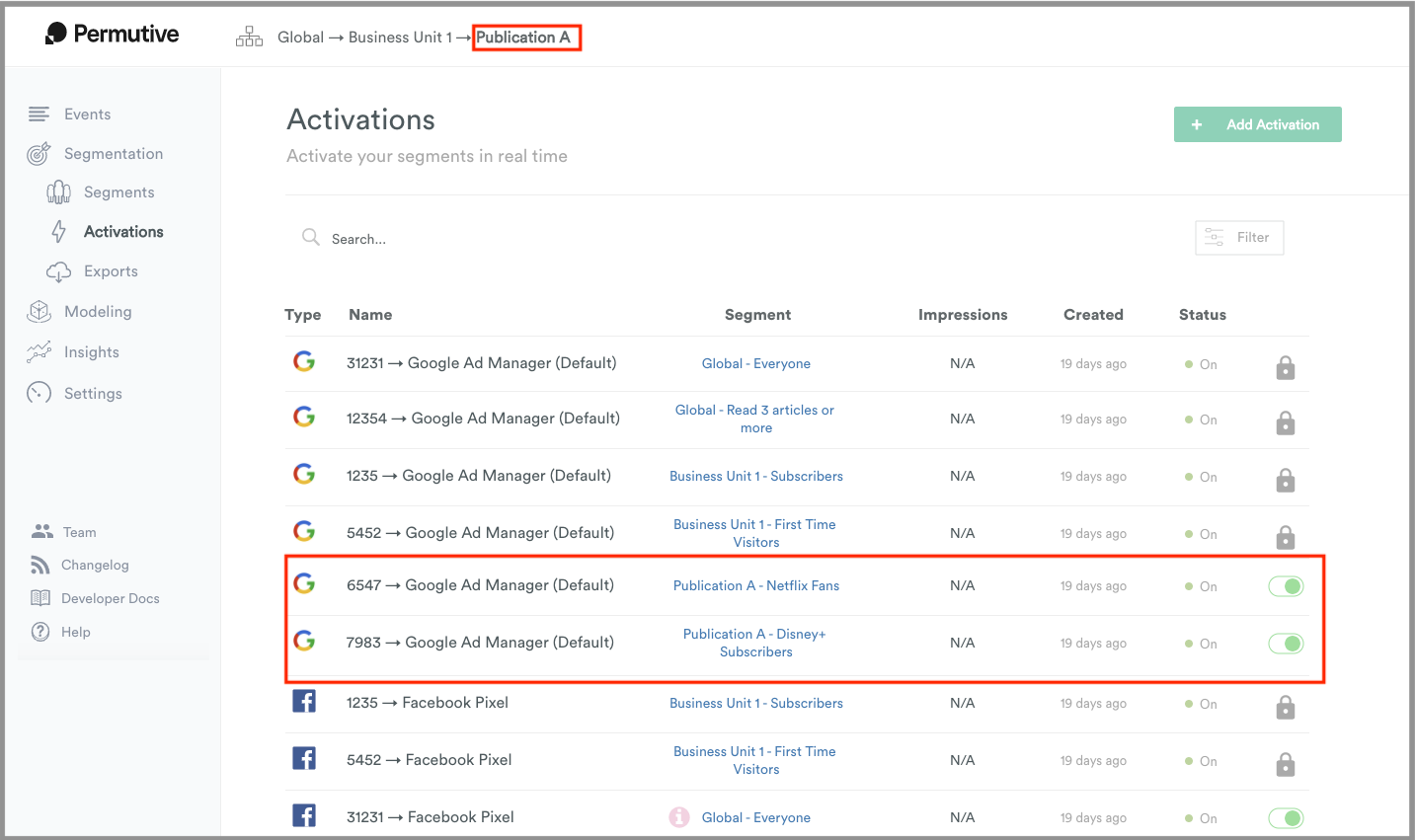 Example: If you send a cohort to Google Ad Manager from Publication A, it will only activate against the data from that workspace.
Integrations can be enabled per workspace.
Example: If Google Ad Manager is enabled for Publication A, you will be able to set up a reaction to a different
Exports
Permutive's data export tab allows you to download user IDs from chosen cohorts over a defined period of time. In Enterprise Workspaces, you will be able to export the data by workspace. This means that only the data available to this workspace will be considered in the export, as well as only the cohorts available to the workspace.
Example: If you want to export data in Business Unit 1, cohorts created in the Organization workspace will also be available for export. The export will be based on data from Business Unit 1, Publication A and B workspaces.
Modeling
Lookalike modeling is a powerful tool in which behavioral data is used to reach wider audiences by finding users similar to your existing cohorts, also called "seed cohorts". Models can only be edited in the workspace where they are created and can be viewed in child workspaces.
Training the model:
As the Permutive models are trained based on cohorts as the feature set, if a model is defined in Business Unit 1, it will be trained based on cohorts available in Organization and Business Unit 1 workspaces.
The training will take place using the raw data from workspaces from Business Unit 1, Publication A and B. This means that for a model in Business Unit 1, no cohorts defined in Publication A or B will be considered.
Evaluating the model:
The model will be evaluated in real-time for workspaces that have access to the model. If a model is created in Business Unit 1, users in workspaces Business Unit 1, Publication A and B will be evaluated against it.
Uniqueness Constraints:
A model can be identified by a combination of Organization, Workspace, Seed Cohort.
This means only one model can be created per seed cohort in every workspace. However, models from the same seed cohort can be viewable in a workspace, if they were created in other workspaces.
Example: If a model based on Seed Cohort A is created in both Business Unit 1 and Organization, a user in Business Unit 1 is able to see two models based on Seed Cohort A, one belonging to Business Unit 1 and another inherited from Organization.
Insights
The Insights tab gives you a holistic overview of the users who are visiting your site and users who have interacted with campaigns on your site.
Insights will only show the data that the workspace has access to.
Example 1: The data used to power Organization insights will be rolled up from across all the workspaces.
Example 2: The data used to power Publication A will only come for that workspace.
The Audience filter will only contain the cohorts available to the workspace ensuring no data leakage.
Example: The audience filters for Business Unit 1 workspace will show only cohorts created in Organization and Business Unit 1.
If you have any questions, please contact customer support by email support@permutive.com or chat with the Customer Operations Team via the LiveChat icon in the bottom right corner of your screen.