In this article
A guide to navigating your Content Read insights for campaigns
Overview
Content Read insights provide data about onsite reading activity with regards to users who viewed or clicked a specific campaign or group of campaigns that have run through Google Ad Manager.
Note: Campaign insights are only available for PG deals that do not contain any video creative or third-party hosted creative. See this article for more information.
This data can be useful in post-campaign analysis once a campaign has wrapped up, or mid-campaign for campaign optimization.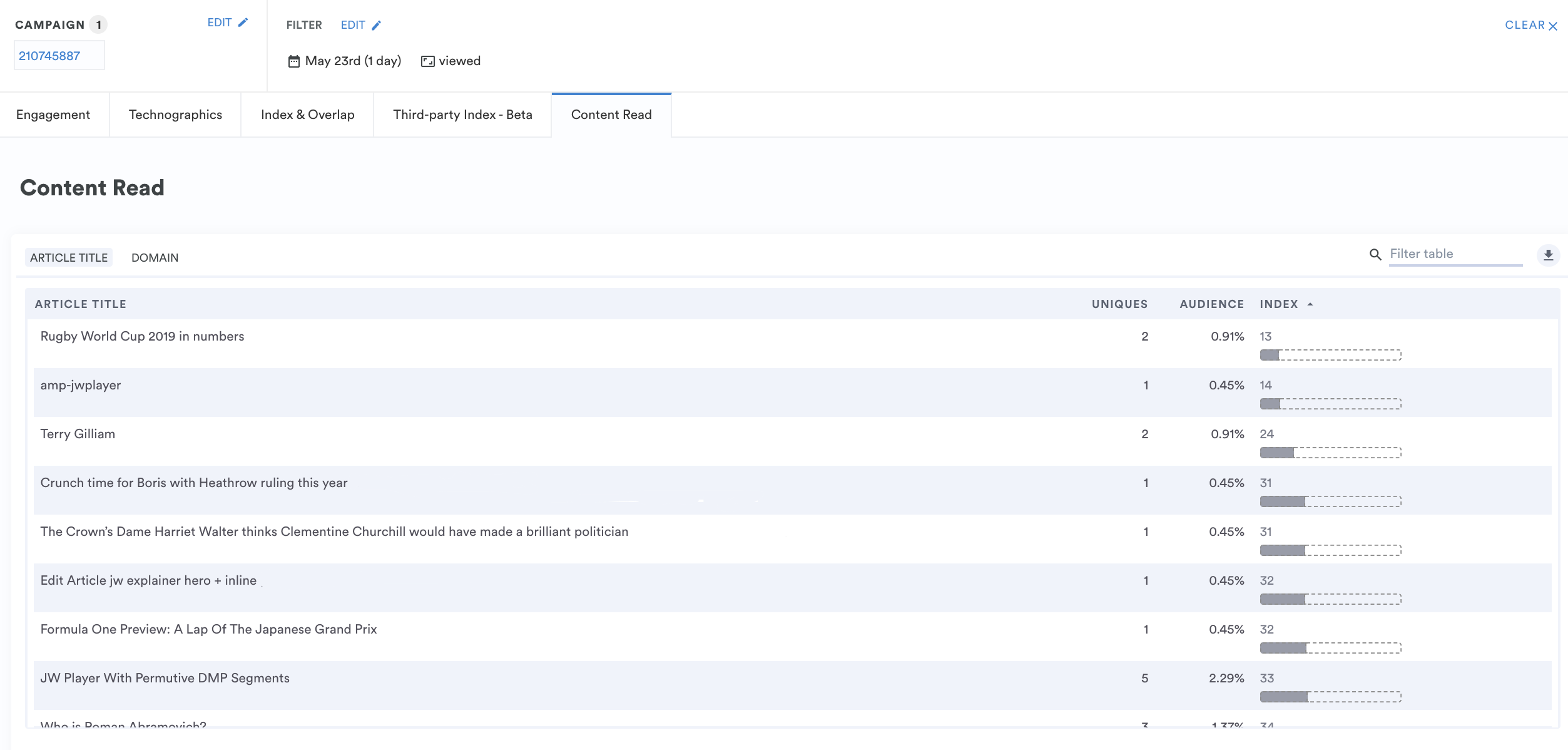 Note: Only properties from the PageView event can be used for the Content Read report. Please refer to Q. What properties can I request to add to my Content Read tab? for more details.
Filters
At the top of the Content Read insights dashboard, you will see Campaign and Filter. If you click 'Edit' next to Campaign you can choose which Ad Manager campaign or campaigns for which you want to see Content Read data.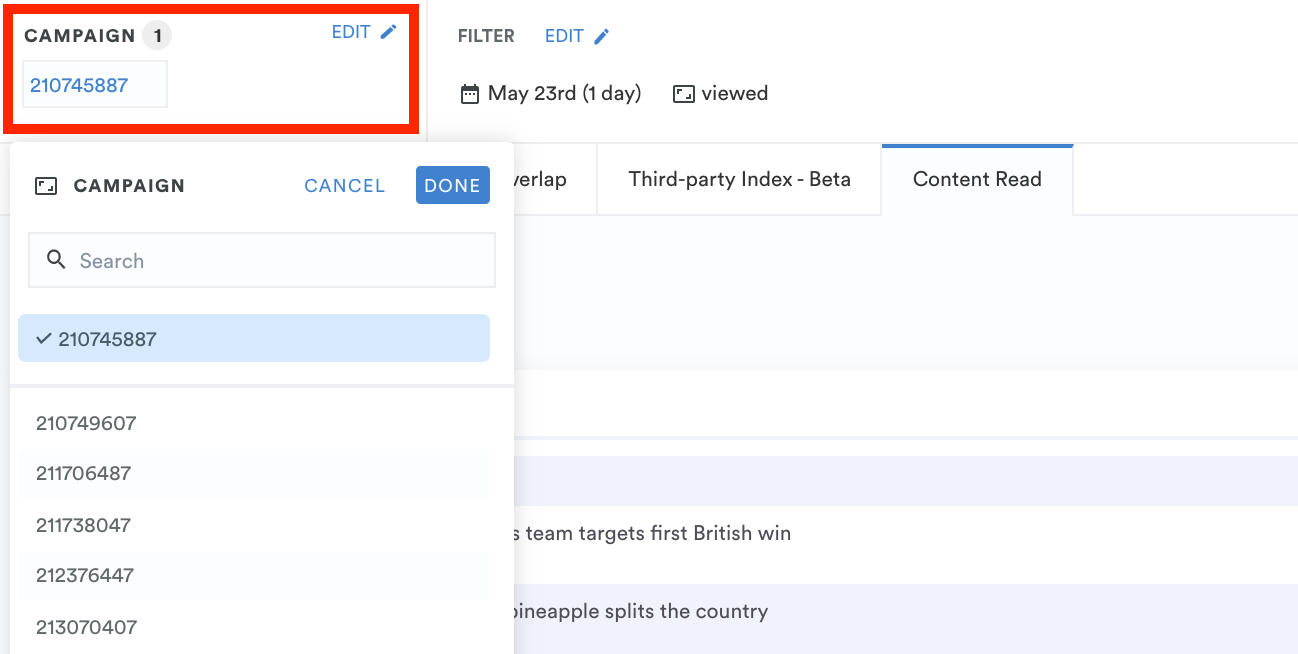 Note: the campaign ID is the order ID of a specific campaign in Google Ad Manager
If you click 'Edit' next to Filter, you will see the filters available when analyzing content read data on a specific campaign.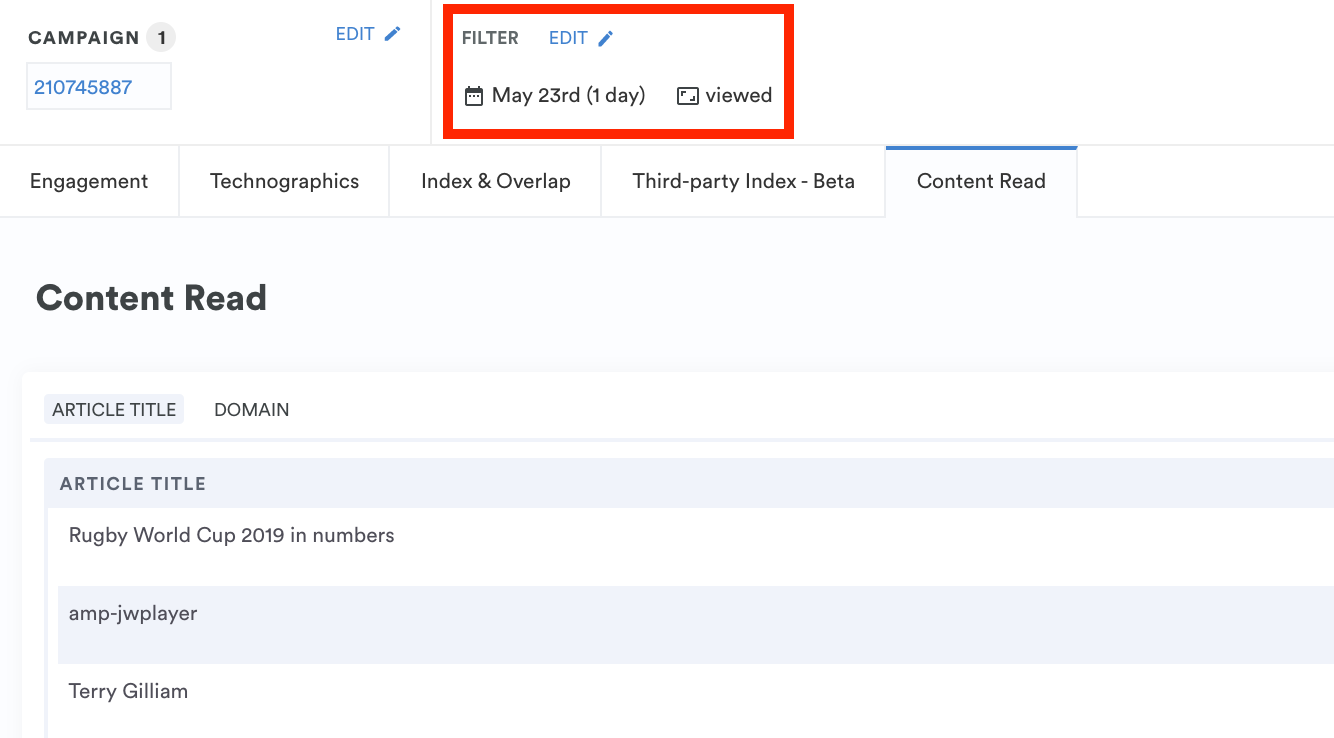 You can choose the date range, line item, domain, device, geolocation, and platform as well as whether you are looking at users who clicked on the campaign or viewed the campaign.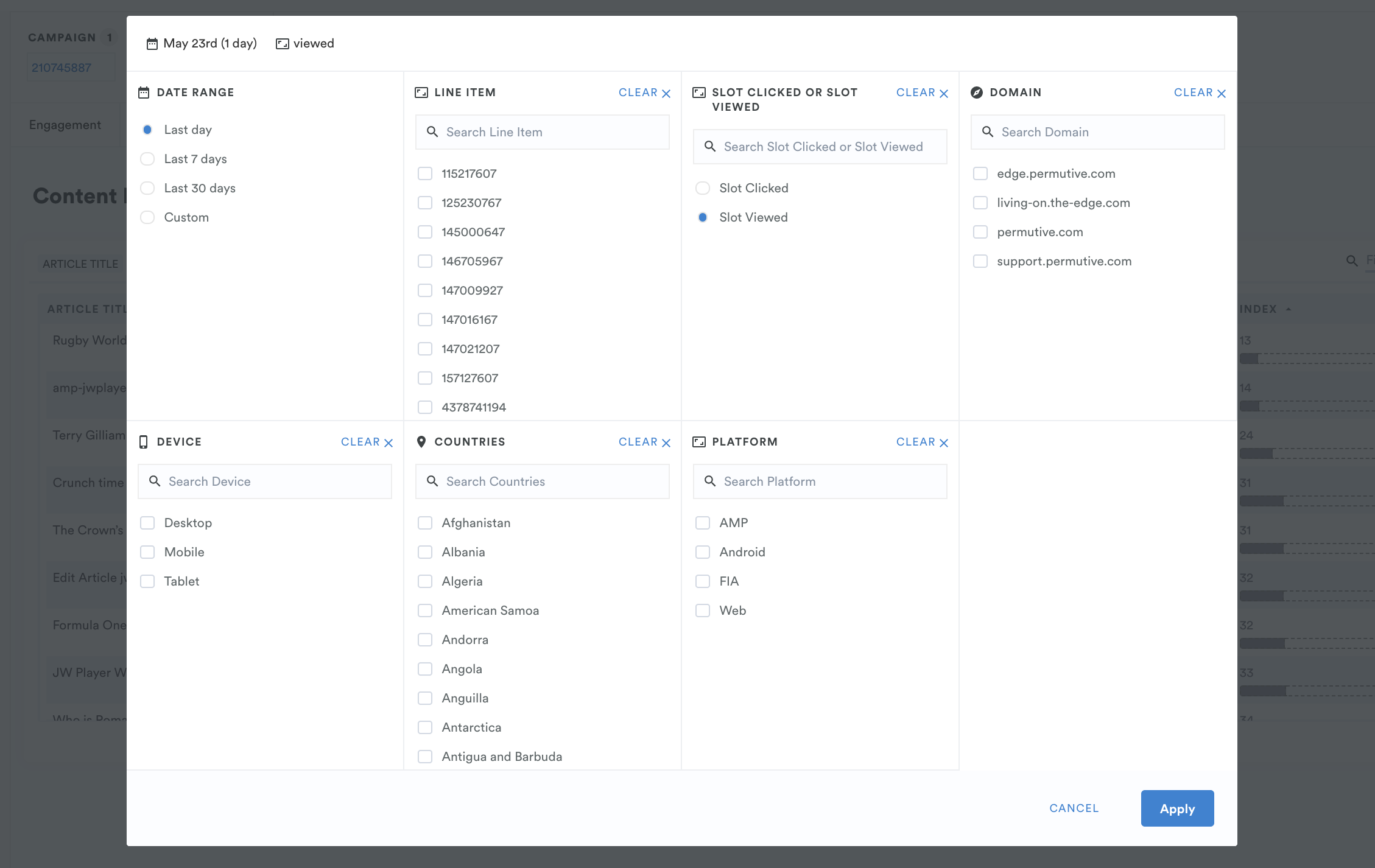 Tip: If you get an error, please see this article for solutions: Common Insights Errors
If you have Permutive deployed on multiple domains, you are also able to see what domains users were on when they interacted with a campaign.

Data Points
Uniques - The number of unique users who read a specific article, and viewed/clicked on the campaign you are filtering by, during the selected timeframe
Audience - The percentage of the audience for a specific campaign that read a specific article
Index - How likely users who viewed your selected campaign are to engage with a specific article when compared to the average user
Note: The list of articles does not indicate what content the specific campaign appeared on, but rather shows a user's interest by showing that users read an article and were served your selected ad campaign during the selected time range.
Interpreting the Index
Similar to what you will find with Index and Overlap insights, the index in Content Read shows how much more likely a user is to have read an article than your average user.

Using the example above, we read this as 'Users who viewed campaign 210745887 are 1.59 times or 59% more likely to read the article Hercules-Teaser Trailer than average users.'
Downloading Data
The data on this report can be downloaded as a CSV file by clicking the download icon in the upper-righthand corner and selecting Download Chart Data.

If you have any questions, please contact customer support by emailing support@permutive.com or chat to the Customer Operations Team via the LiveChat icon in the bottom right corner of your screen.