In this article
An overview of how to make your cohorts available in The Trade Desk to sell. The Trade Desk is an online demand-side platform that provides buying tools for digital media buyers.
Enabling the Integration
Before you are able to send 3P cohorts to The Trade Desk, you must sign a legal agreement with The Trade Desk. Please get in touch with Permutive support, and we would be happy to get you in touch with the right Trade Desk contact to get this done.
To set up this integration you will need:
TTD login (email and password)
Brand ID
Partner ID
In the Permutive Dashboard:
1. Log in to your project, select Settings → Integrations → Add Integration

2. Select The Trade Desk - 3P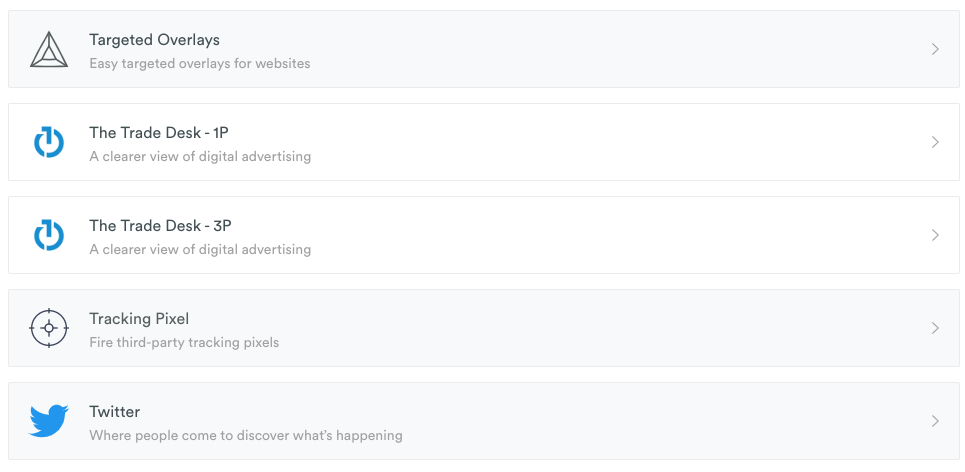 Note: This integration is specifically for selling cohorts in The Trade Desk. To retarget cohorts in The Trade Desk use The Trade Desk - 1P
3. Enter your The Trade Desk email, password, Brand ID, and Partner ID
4. Click 'Add The Trade Desk - 3P'
The integration will be live within 20 minutes
Creating a Rate
Once the integration has been set up, you can then assign rates to your cohorts through activations.
In the Permutive dashboard:
Navigate to your project activations page and click Add activation
Choose The Trade Desk - 3P
Enter a Display Name and a CPM Rate for the cohort of your choice.
It will take up to 24hrs for your rates to show in The Trade Desk.
If you have any questions, please contact customer support by emailing support@permutive.com or chat to the Customer Operations Team via the LiveChat icon in the bottom right corner of your screen.