In this article
We will show you how to use tags to filter the list of your segments in the Permutive Dashboard and how to add and delete them.
Filtering the list of segments
Tags are a useful way to group segments that have something interesting in common.
To filter the list of segments visible in your dash click on the Filter button on the right-hand side of the segments list. On the list that appears you will see all the tags you have added to the segments. Click on the tick boxes next to the names of tags to select segments that have all selected tags. Click on the 'Clear All' button at the bottom of the dropdown list to remove all ticks and if you want to close the filtering list, click on the 'Ok' button.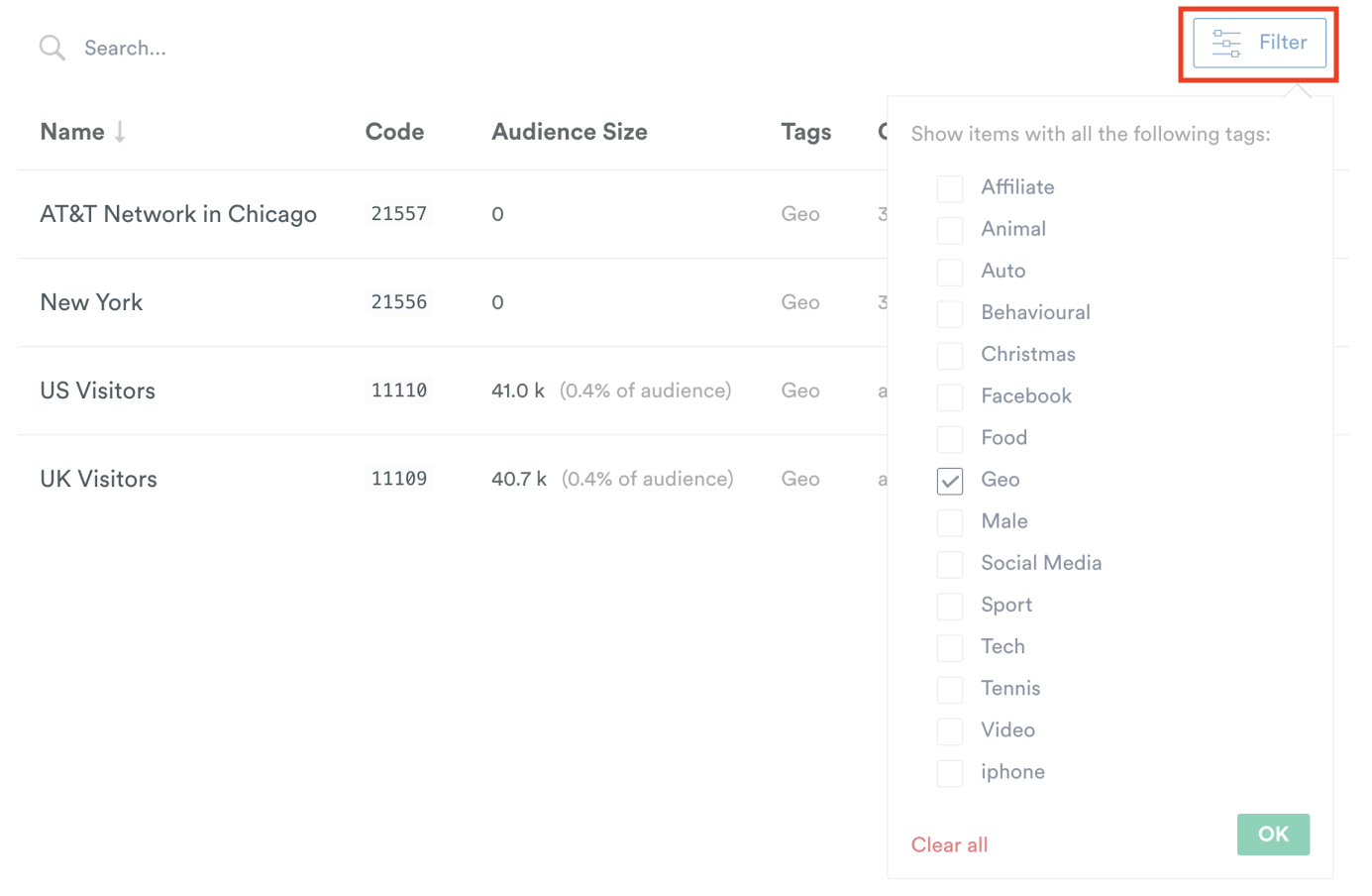 Adding and removing tags
To edit tags belonging to a specific segment, go to that segment Edit page. To do that, on the segment list either click on the name of the segment or click on the three dots context menu at the end of the row and click 'Edit' from the drop-down menu.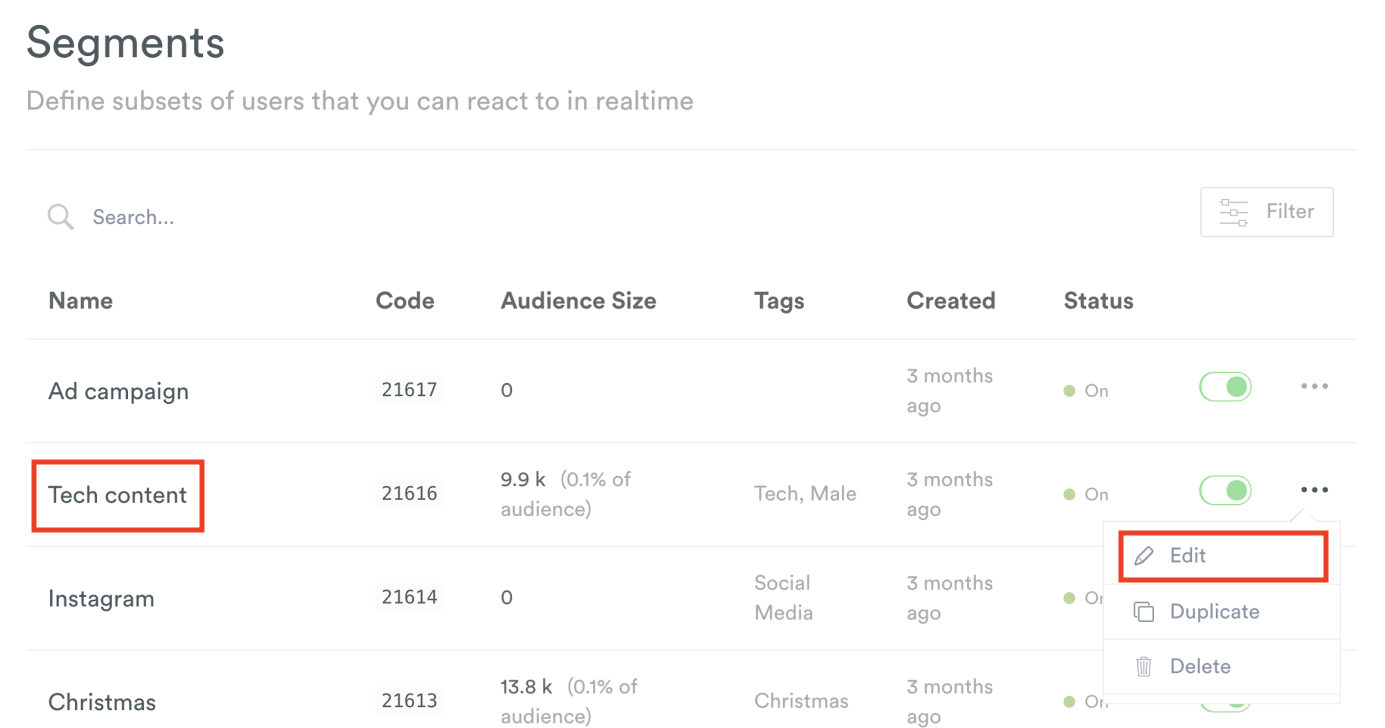 On the 'Edit segment' page find the 'Tags' row and click on the 'Edit' button on the right-hand side.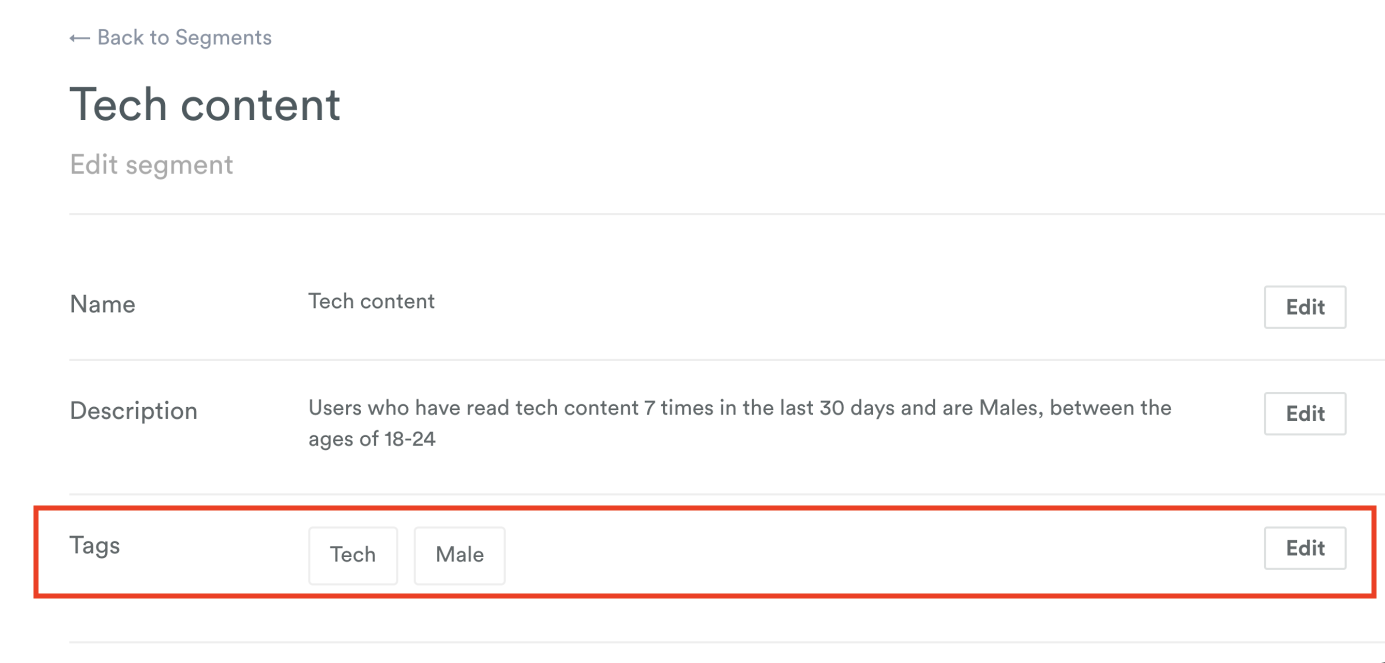 The tags row expands and you will be able to remove and add tags belonging to the segment.

Click on the 'x' button next to the tag name to remove it from the current segment. When a tag is removed from all segments it will no longer appear on the tags drop-down list.
You can add any existing tag when you click on the arrow next to the 'Add' button and select from the drop-down list.
If you want to create a completely new tag and add it to the segment, type its name in the box saying 'Select or create tag...' and click on the 'Add' button.
When you're finished with your edits, click 'Save' to commit all tags addition and removal or 'Cancel' to come back to the state before you click on 'Edit' effectively discarding your changes.
Note: The tag list is fully dynamic, reflecting tags belonging to your segments. That means that when you add a completely new tag to any segment it will appear on the list of tags. Conversely, when you remove a given tag from all of your segments it will no longer appear on the list, giving you a convenient way to manage your tags.
If you want to delete a tag from the system entirely or have any questions, please contact customer support by emailing support@permutive.com or chat to the Customer Operations Team via the LiveChat icon in the bottom right corner of your screen.