In this article
A guide to sending cohorts into the AppNexus platform. With Permutive's AppNexus integration, you can pass cohorts over to AppNexus for targeting on campaigns.
Send Cohorts via the AppNexus Activation Sync
In the Permutive Dashboard
1. Login to your project, select 'Cohorts → Add Cohort'
2. Set up the properties for your cohort. For more guidance on setting up cohorts, see this guide.
At the end of the cohort builder you'll find the Activation sync:

3. Switch it on (so it turns green)
4. Save the cohort.
Your cohort will now be sent to AppNexus as the cohort name prefixed by 'Permutive -'.
Manually Setting Up AppNexus Activations in Permutive
The activation sync described above only works when saving the cohort for the first time. If you'd like to create and save your cohort and send it to AppNexus later, follow the below steps.
Note: At this stage, we'll assume you already have your cohort set up. If this isn't the case, you can learn more about Permutive cohorts here.
1. Go to the Activations section of the Permutive Dashboard.
2. Click + Add Activation.
3. Select 'AppNexus' under Action, then fill in the details.
4. Give the AppNexus Activation a name
5. Choose the cohort you want to target.
6. Set the trigger to 'On Entry'.
7. Click create.
It should look like the screenshot below.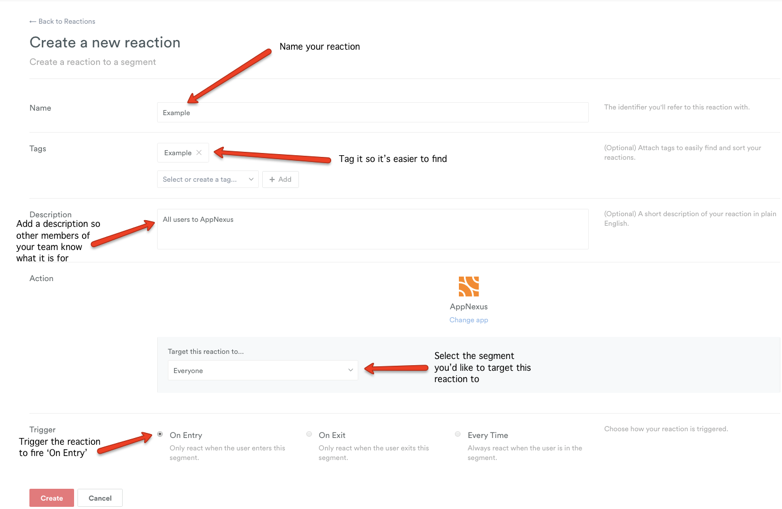 Using Audiences in AppNexus
When you return to the AppNexus platform, head to Network > Segments > Segment Manager to view your cohorts. Those sent from Permutive will be prefixed by 'Permutive -'.
To set up a set up a campaign:
1. Go to Advertisers > Campaign Manager > Select your Advertiser >
2. Click + New Campaign.
3. Enter your campaign information and then expand the 'Targeting' section.
4. Select the Permutive Audience you'd like to use in this campaign and hit 'Save'.
If you have any questions, please contact customer support by emailing support@permutive.com or chat to the Customer Operations Team via the LiveChat icon in the bottom right corner of your screen.