In this article
A step-by-step guide to sending segments to Facebook
Assuming you've already enabled the Facebook Pixel on your Permutive account, it's easy to start getting Permutive Segments into Facebook.
Send Segments via the FB Activation Sync
To send Segments via the Facebook Activation Sync mechanism (suggested), follow theses steps:
In the Permutive Dashboard
1. Login to your project, select 'Segments → Add Segment'
2. Set up the properties for your segment. For more guidance on setting up segments, see this guide.
At the end of the segment builder you'll find the Activation sync:

3. Slide the Facebook Pixel on (so it turns green) and save the segment.
Your segment will now be sent to Facebook using its segment code as an identifier.
Note: Activation syncs can be activated when a segment is created or can be edited after the segment has been saved.
Send Segments Manually via the FB Activation
Alternatively, you can send Segments manually via the Facebook Activation
1. Go to the 'Activations' part of the dashboard, and click 'Add Activation'

2. Select 'Facebook - Fire Pixel' under Action, then fill in the details.
3. Give the Facebook Event a name (eg. PageView) and pick the segment you're wanting to send. Set the trigger to 'Every Time'.
It should look like the screenshot below. Then click create.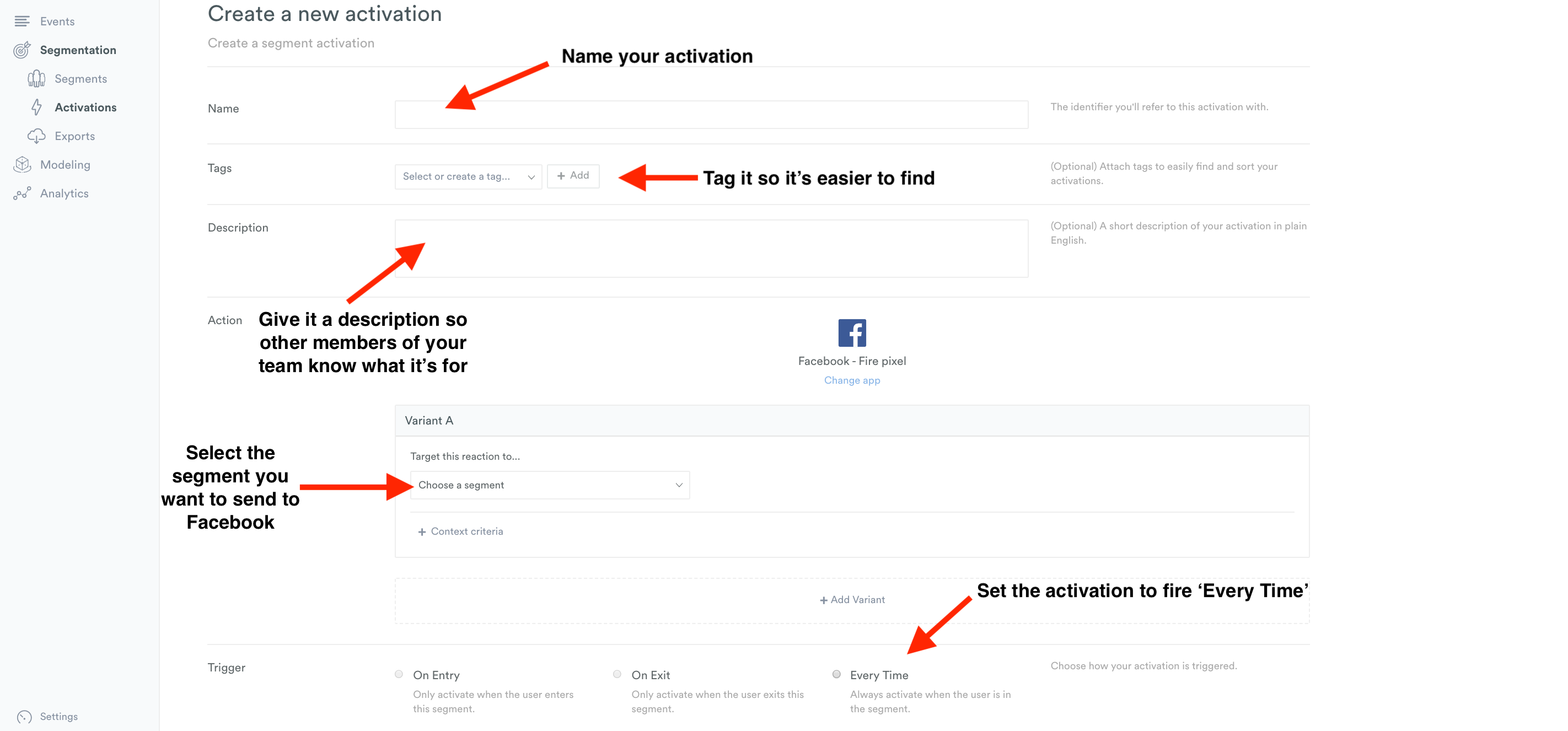 The last step is to get the segments sent into Facebook. As we currently stand, Permutive will be sending information into your Facebook Pixel. You can now use these events to create your Facebook Audiences.
It's worth noting at this point, you might want to wait a few hours before continuing. This is because Facebook can take a while to show the events coming through.
Find Your Events
Go into your Facebook Account and head to the Pixel section under Measure & Report > Events Manager. Then select your Pixel, in our case we're using Permutive's pixel.

From this view you'll be able to see all the events feeding into your account, and also create new audiences based on these events to use in campaigns.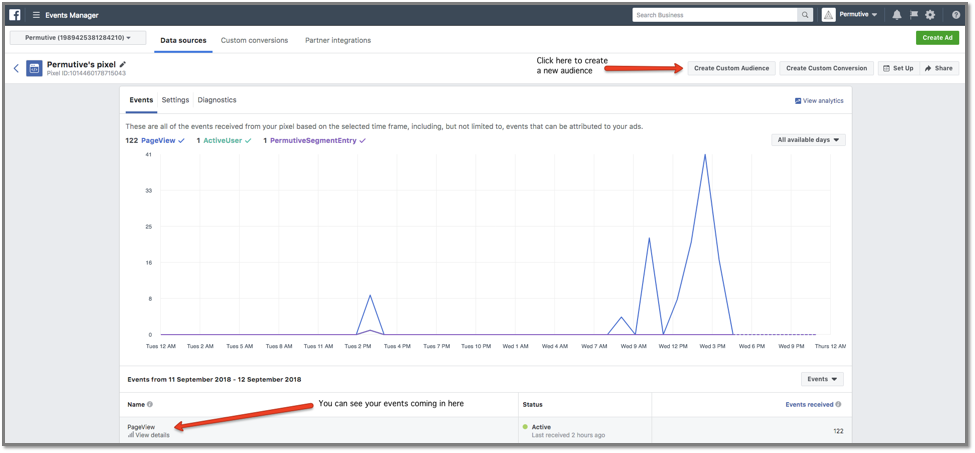 Set up Facebook Audiences
Select Create Custom Audience and choose the Ad Account you'd like this audience to appear in.
Choose the 'PermutiveSegmentEntry' event.
Click where it says it says 'Refine by'
Select URL/Parameter → segment_id → equals and type in the segment's code (which you'll find in the Permutive platform).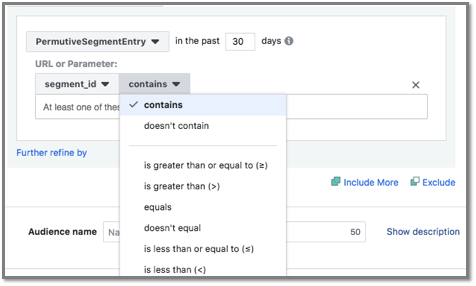 More complex audiences can be created by selecting Include more/ Exclude more.
Name your new Audience and Click Create. This Audience is now ready to be used in campaigns!
Note: To view all your Audiences, head to Assets > Audiences.
Troubleshooting Match Rates
Publishers often find that the uniques in a Permutive segment do not match the number of users in their Facebook audience, this could be for the following reasons:
You don't have the correct Facebook pixel/account ID on your site
The audience size estimate is being used to calculate match rate instead of the actual number of users in the segment (searchable in the Analytics tab using the Engagement report)
The activation to send users to Facebook was set up a while after the segment was created. Users will not backfill, but will begin being sent to Facebook when they enter the segment/next return to your site.
There is a reliance on third-party cookies. If a user does not have third-party cookies enabled or is using a browser which does not allow third-party cookies, Facebook will not be able to match them and so they will not appear in the Facebook audience.
If the user has never logged on to Facebook using the browser they used to access your site, there will be no way of matching the third party cookie.
If you have any questions, please contact customer support by emailing support@permutive.com or chat to the Customer Operations Team via the LiveChat icon in the bottom right corner of your screen.