In this article
We will guide you through setting up The DV360 (formerly called DBM) activation. This allows you to send any of your Permutive cohorts directly to DV360.
DBM Set-up

Entity ID - To set up the integration you'll first need to contact your Google Account Manager and ask them to link our DMP account to your account, to do this you need to supply them with our customer ID, 405-835-3268.
Please then use your Partner ID to configure the integrations in the Permutive UI.
Note: You'll also need to ask your Google Account Manager which Product Type your DV360 account falls under. There are two options here:
- When you want to send cohorts to a Partner seat, choose INVITE_PARTNER
- When you want to send cohorts to an Advertiser seat, choose INVITE_ADVERTISER
It is possible that an Advertiser has an account of INVITE_PARTNER and vice versa, it is the type of account that is relevant.
From here you can send cohorts directly into your DV360 account, where they will automatically appear in the UI in around 2 hours.
Sending Cohorts to different DV360 accounts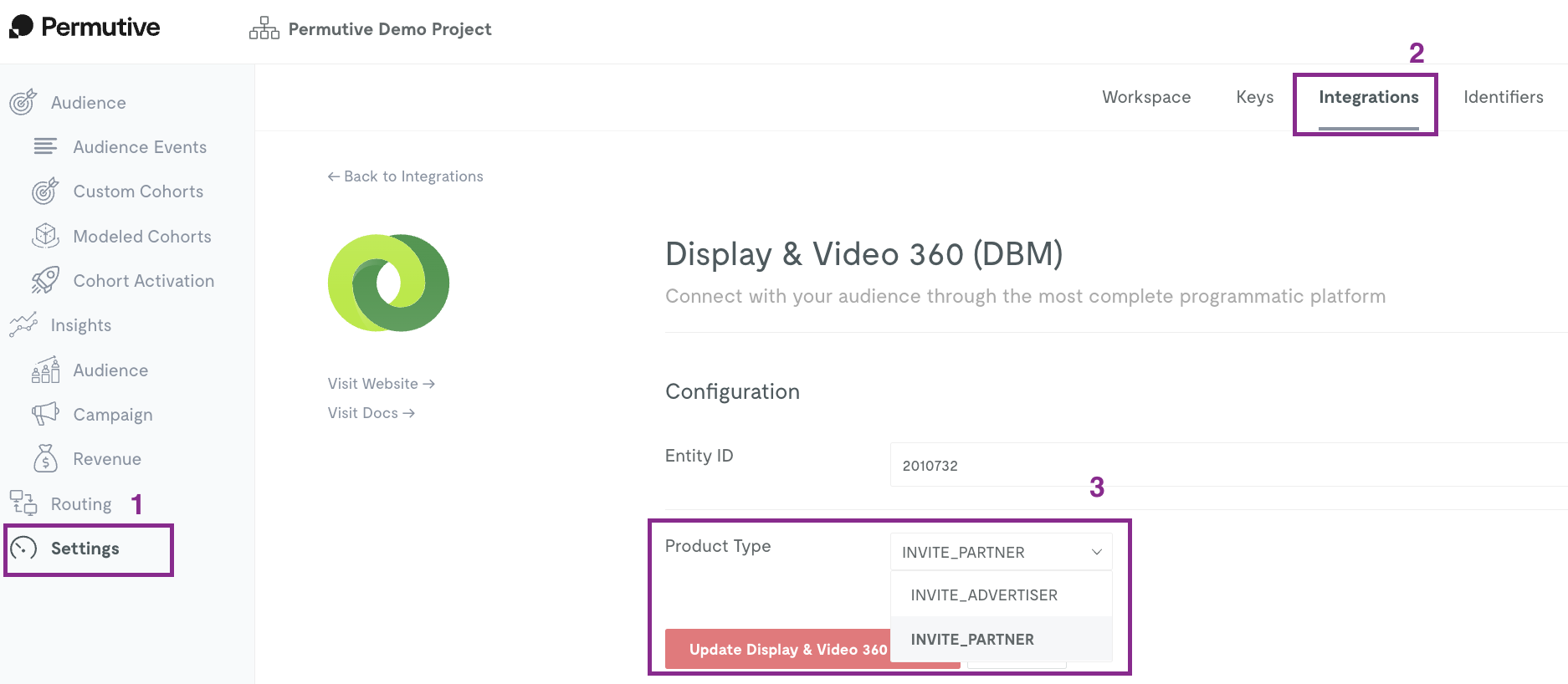 Whatever you choose at 'Settings' > 'Integrations' > 'Product Type' will be the default value. (If you don't select anything on a Reaction level).
If you'll always send cohorts to the same DV360 advertiser account, we would recommend changing this to INVITE_ADVERTISER.
If you also have your own DV360 account, we recommend you leave the 'Product Type' as INVITE_PARTNER and then change it to INVITE_ADVERTISER for the reaction which sends cohorts to the advertiser.
You can then overwrite this on a Reaction level if required. Overwriting on a Reaction level should only be necessary if you'll send cohorts to different DV360 accounts.
Note: The name you set for the cohort in the Permutive UI will be what the DV360 cohort is called. The Permutive cohort code will also be visible via a field called 'integration code'.