In this article
A guide to setting up and running campaigns in Pinterest using Publisher Cohorts
Pinterest allows you to run custom audiences, and target promoted pins at these audiences.
With our Pinterest integration, you can pass Publisher cohorts over to Pinterest to target users on their boards and through Pinterest's Ad network.
The setup requires work in Permutive and the Pinterest Ads platform. It's important to ensure you have access to both before starting.
Setting up Audiences in Pinterest
Select Ads > Audiences > Create Audience
Choose to target a group of people based on Visitors who went to your site
Fill in the required details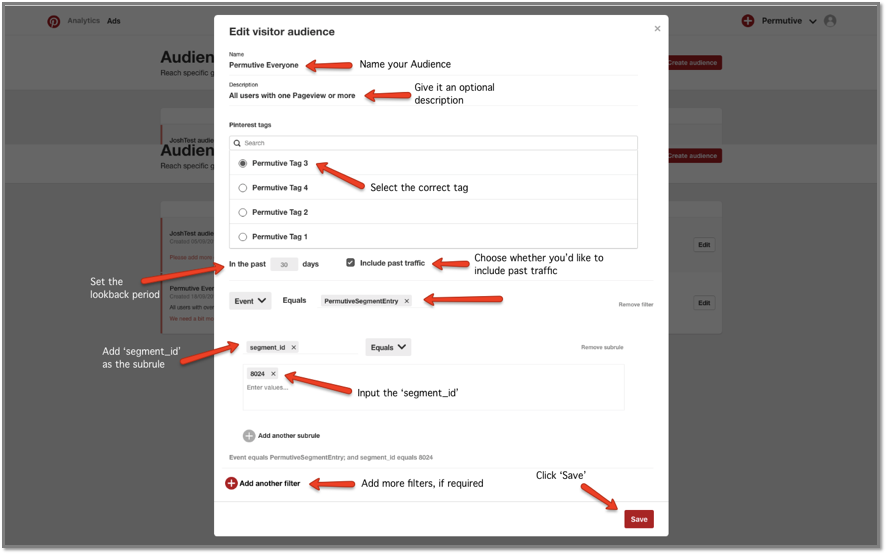 4. Make sure to select the same tag you used to configure your Pinterest Integration in the Permutive dashboard
5. To target the audience to a Permutive cohort, click Add another filter
6. Select Event and make it equal to PermutiveSegmentEntry
7. Choose to Add a subrule and set the Subrule key to segment_id
8. In the text box, add the Permutive cohort id (eg. 8024)
9. Hit Save
Pinterest will need to verify your audience before you can use it to target in campaigns.
Syncing Audiences with Permutive
The next step is to ensure people are added to the Pinterest Audiences correctly, matching your Permutive cohorts.
To get a cohort into Pinterest to use as an Audience you'll need to set up an Activation.
Go to the Cohort Activation section of the Permutive Dashboard.
Click + Add Activation.
Select 'Pinterest'

under

Action

, then fill in the details.

Give the Pinterest Activation a name and pick the cohort you want to target. Set the trigger to 'Every Time'.
It should look like the screenshot below. Then click create.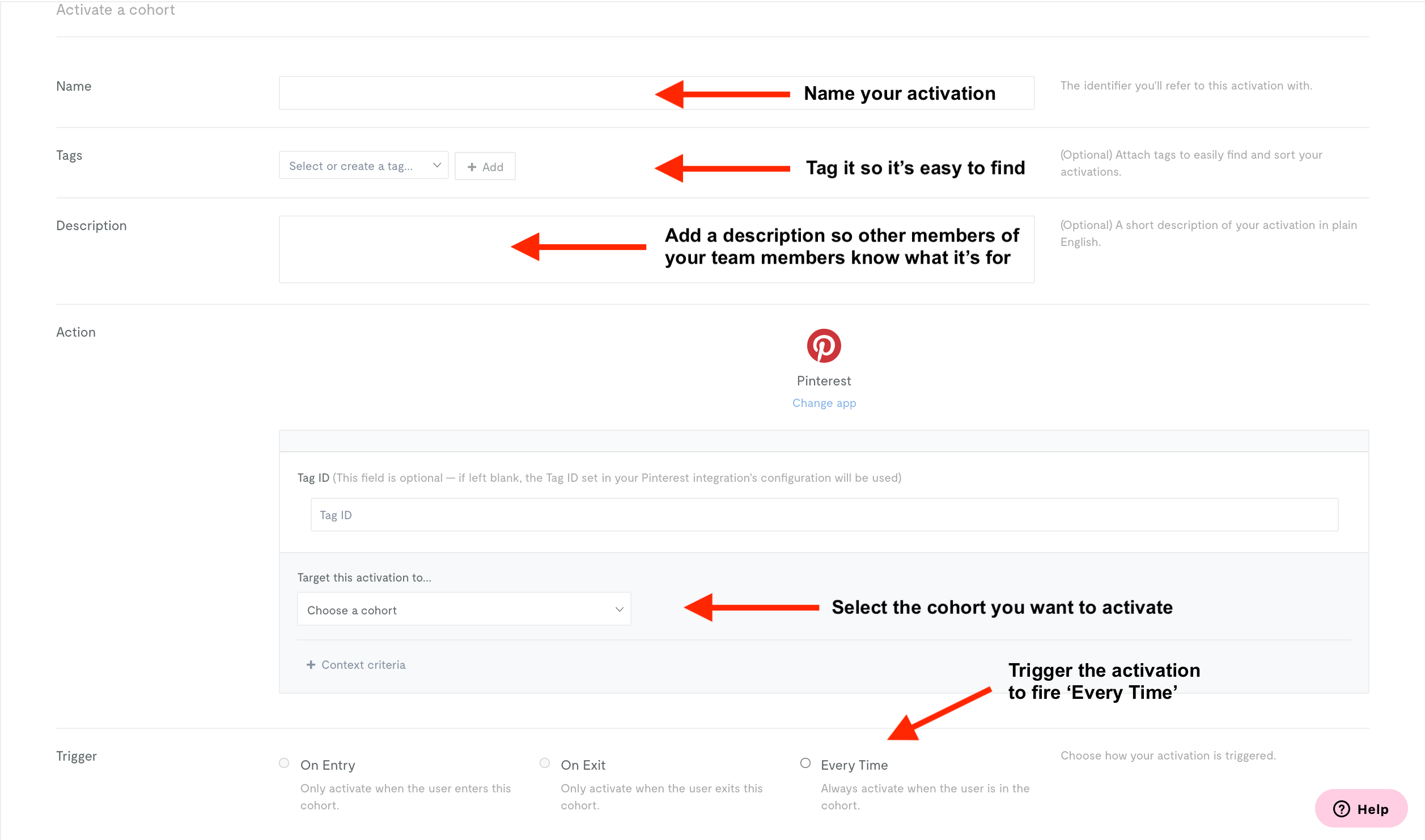 Using Audiences in Pinterest
When you return to the Pinterest Ads dashboard, head to Ads > Create Ad. Set up the campaign and click Continue. Add the Ad Group details and then select the Permutive Audience you'd like to use in this campaign.

If you have any questions, please contact customer support by emailing support@permutive.com or chat to the Customer Operations Team via the LiveChat icon in the bottom right corner of your screen.