In this article
An overview of Permutive's partnership with IBM Watson Natural Language Understanding tool
Overview
Permutive can enrich Pageview events with IBM Watson Natural Language Understanding to power the world's most accurate intent-based targeting, in real-time. IBM Watson's technology analyses text to extract metadata from content such as concepts, entities, keywords, categories, sentiment, and emotions using natural language understanding.
 ​
IBM Watson allows you to offer superior intent-based targeting powered by these incredibly accurate classifications. From broad topics all the way through to smaller, highly granular topics, you are able to offer relevant, custom audiences.
Each Pageview can be enriched with the following properties. Features all have a relevance score to indicate how relevant they are to the classified document. 
| | |
| --- | --- |
| Feature | Description |
| Categories | Categorises your content using a five-level classification hierarchy |
| Concepts | Identifies high-level concepts that aren't necessarily directly referenced in the text |
| Emotions | Analyses emotion conveyed by specific target phrases or by the document as a whole |
| Entities | Finds people, places, events, and other types of entities mentioned in your content |
| Keywords | Searches your content for relevant keywords |
| Sentiment | Analyses the sentiment toward specific target phrases and the sentiment of the document as a whole |
Each article is analysed and accurately classified according to a standard taxonomy. This five-level hierarchical taxonomy has twenty-three main topics and hundreds of sub-topics covering the entire advertising spectrum.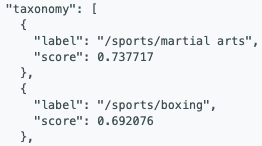 Returns high-level concepts in the content. For example, a research paper about deep learning might return the concept, "Artificial Intelligence" although the term is not mentioned.
This property detects anger, disgust, fear, joy, or sadness that is conveyed in the content or by the context around target phrases specified in the targets parameter.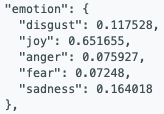 This property can identify people, cities, organisations, and other entities in the content. See here for an example of the entity types and subtypes that can be returned.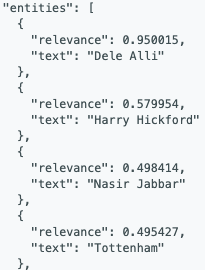 The Keywords property simply returns important keywords in the content being classified.
This property analyses the general sentiment of your content or the sentiment toward specific target phrases.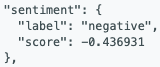 Click here to try a demo! 
How it works
IBM Watson's Natural Language Understanding tool uses natural language processing (NLP). NLP is the parsing and semantic interpretation of text, allowing computers to learn, analyse, and understand human language. With NLP comes a subset of tools – tools that can slice data into many different angles. NLP can provide insights on the entities, concepts, sentiment and emotion from textual data. 
1. Each article is classified with the features listed above.
2. Permutive uses these classifications to enrich the Pageview events of users who have read articles on any given topic.
3. These Pageview events can then be used to create cohorts that can be targeted in various platforms
Note: In some instances, Watson may be blocked from firing preventing page classification. This could be due to paywalls or a bot blocker the publisher has in place. As a workaround, both parties can setup a known query parameter in the URL such as "bot-access=true". Please reach out to support@permutive.com to configure.
If you have any questions, please contact customer support by emailing technical-services@permutive.com or chat to the Customer Operations Team via the LiveChat icon in the bottom right corner of your screen
Version
Permutive uses Watson version 2019-07-12 as default for content classification. Later versions of IBM Watson use their version 2 category labels, which are based on the IAB content taxonomy. Version 2 also promises better classification quality. You can find an overview of available versions here. 
Please reach out to Permutive support if you want to use a more recent version of the Watson classifier. Please note that upgrading to a new version applies only to new content classifications and does not reclassify content that was classified under a previous version.
Content Selection
Permutive allows you to specify which content on the page should be classified. This customisation enhances classification quality by ensuring that only relevant elements, such as the article body, are considered, while excluding other elements like content recommendations or native ads. Content selections are defined using XPath selectors and can be specified on an organisation, workspace or domain level. Please reach out to Permutive support if you want to specify selectors for content classification.